Museum Touchscreen Technology, What's The Best?
Something we're asked quite often over here at blackbox-av is "what's the best type of touchscreen technology for use in a museum/heritage environment", so we thought why not write a post that answers that question!
There are currently 4 main categories of touchscreen technology, Capacitive, Resistive, Surface Acoustic Wave (SAW) and Infrared. Although there's a new kid on the block

called

Optical Imaging which is gaining in popularity but hasn't really taken over the more conventional technologies yet, you should certainly watch this space though.
For now lets focus on the 4 well known options, each has its pros and cons and has also evolved over the years to keep up with changing technology.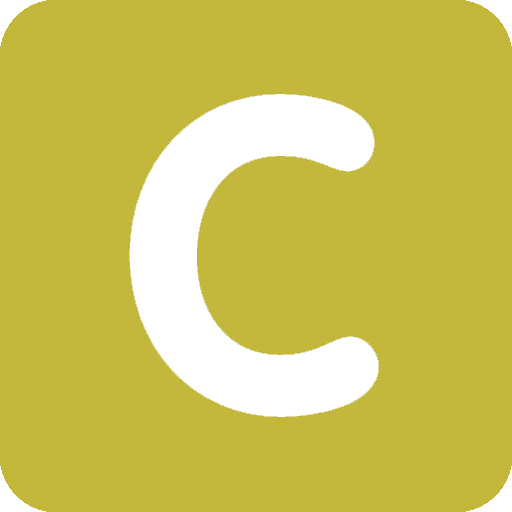 Capacitive Technology
A capacitive touch screen is a control display that uses the conductive touch of a human finger or a specialized device for input.When a capacitive panel is touched, a small amount of charge is drawn to the point of contact, which becomes a functional capacitor.
The change in the electrostatic field is measured to find the location. In some designs, circuits located at each corner of the panel measure the charge and send the information to the controller for processing. In multi-touch screens, sensors are arranged in a grid to enable more complex input.
Pros
Great quality image due to fewer layers between the panel
Responds well to even a light touch
Multi-touch capable
Screens feel and look sleek
Not as affected by dust particles as other options
Cons
Only works with fingers or conductive materials
Not ideal for outdoor use in cold weather (people wear gloves!)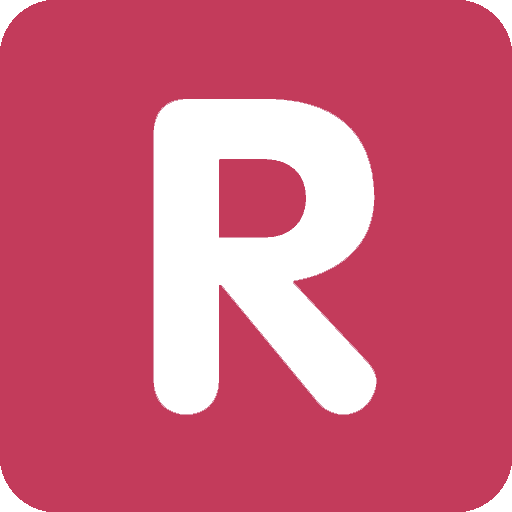 Resistive
With resistive technology the main screen is covered with three layers. Two layers are placed over the screen and kept slightly apart, one is conductive and the other resistive, when the screen is touched these panels are pushed together registering the input. A scratch resistant surface completes the setup.
The best thing about resistive touchscreens is their ability to register inputs from any object, be it your finger, a pen or a gloved hand. They are also more accurate than other systems although more prone to damage and less responsive to a lighter touch.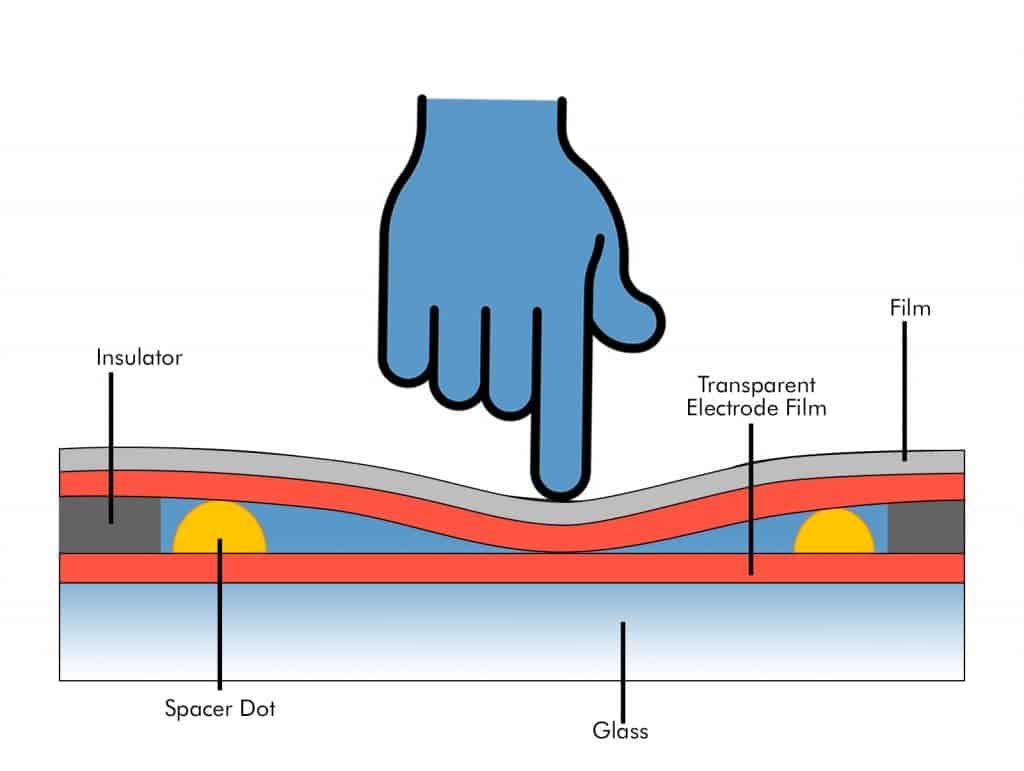 Pros
Relatively Cheap
Responds to any input (stylus, finger, gloved finger etc.)
Great for handwriting recognition systems
Accurate & reliable
Cons
Not ideal for multi-touch
Multiple layered panel means a lesser quality image, especially in well lit conditions
Vulnerable to damage
Older technology
Poor responsiveness to lighter touch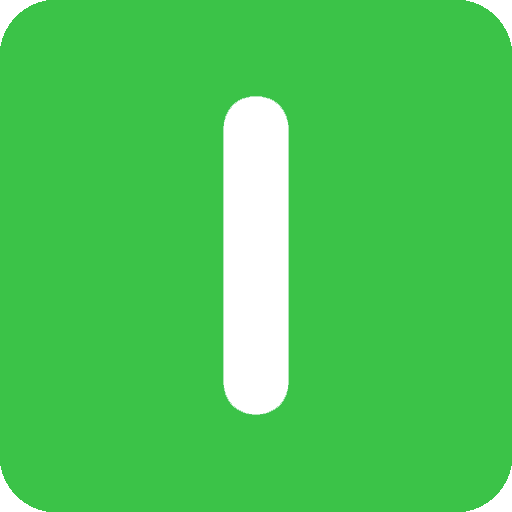 Infrared
When most people think of Infrared touchscreens they think of the classic 1980's computers with orange/green text and a massive frame around the monitor, the fact is this technolgy still very much has a place in the modern world, it's one of the more robust options and works by simply setting up a pattern of criss crossing infrared that when broken registers as an input.
There are a number of drawbacks to this technology however, for example bright lighting can interfere with the beams, as can dust and dirt. It's most useful for applications outdoors where it can detect any input and not just a 'conductor' such as a finger (not in a glove!). However for the average indoor museum exhibit it's a strong option.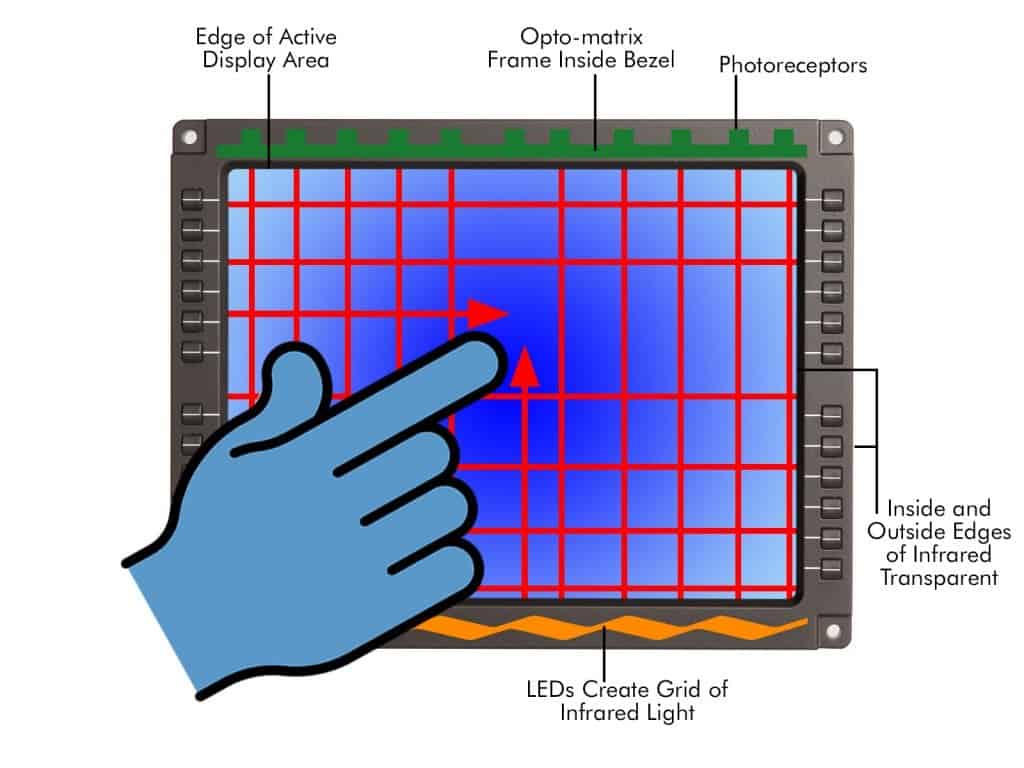 Pros
Offers Multi-touch due to relatively new developments
No overlay required so provides great image quality
Can work with any object as input
Durable
Cons
Can be expensive
Requires a bezel frame to house infrared
May require regular cleaning to ensure functionality
Bright lighting can possibly interfere with the system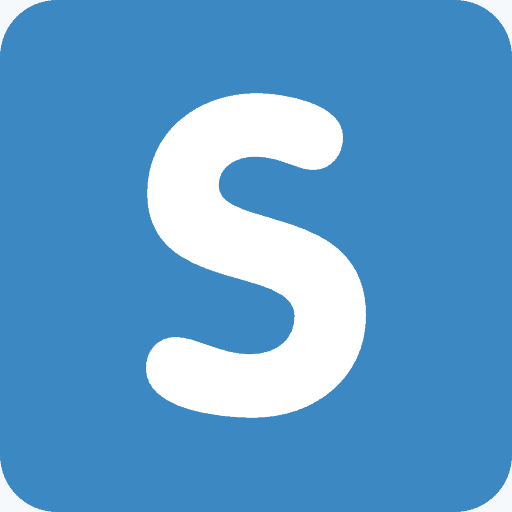 Surface Acoustic Wave (SAW)
This technology utilises ultrasonic waves that are projected over the front panel, when the panel is touched some of these waves are absorbed and receivers register this change while controllers pinpoint where it happened.
If the panel is touched by a finger which then remains motionless, only the initial touch is registered, this can be a positive or negative depending upon the application, for example it can have an effect on the software used with the screen but makes it perfect for use as a workstation where objects are likely to be rested on the panel, such as a hand or elbow etc.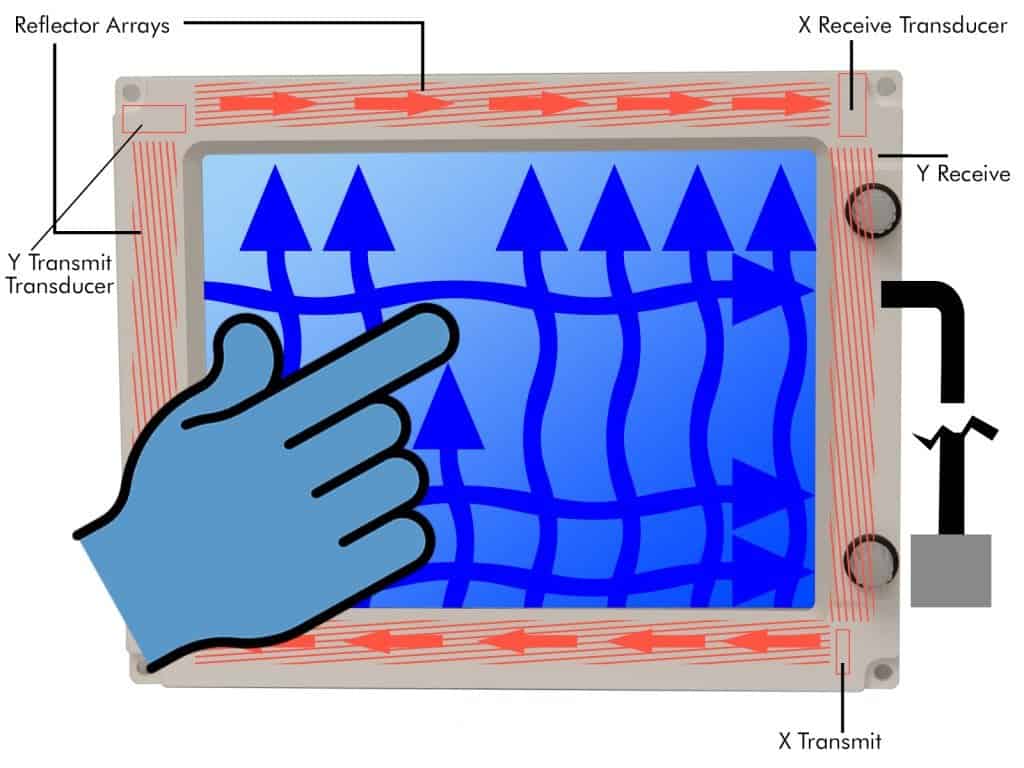 Pros
Clear glass panel used, no need for overlays
High clarity and durability due to single panel
Does not detect hard objects so makes a great workstation panel
Sensitive to gloved hands.
Cons
Can not detect a motionless finger after the initial touch
May Need regular cleaning to ensure functionality
Relatively expensive compared to other options
Display screen can not be completely sealed
Sign up to our Newsletter below to receive news and exclusive insights.
So… What Touchscreen Technology Is Best
For Museum and Commercial Use?
And the winner is……
Until recently this could be a tough question to answer, due to technological restrictions and costs involved, the question of "which touchscreen technology is best for the public environment?" could have been answered in various ways, with the ultimate decision depending on a number of factors.
These days however thanks to technological innovations the answer is practically always Capacitive, there's a reason almost all modern tablets and phones use this technology. On a larger scale this was once more expensive, so for touch tables you might have been tempted by another option such as Infrared however this is no longer the case.
The only time you will want to use a technology other than Capacitive, is if your touchscreen needs to allow gloved use… for example a touchscreen kiosk installed in an arctic research base…
For this reason our extensive Touchscreen range consists of Capacitive touchscreens; 
Some of our touchscreens in action…
Checkout some of our recent projects that involved touchscreen technology.
What use is a touchscreen without software to use with it? Which is why we not only supply cost effective hardware options, but have also developed Lightbox 3, our multitouch off-the-shelf interactive software package perfect for use in Museum environments.
With this powerful system you're able to create exciting touchscreen exhibits from your own audio and visual content.
Have any questions? Get in touch!