History of the U-Turn Round
With the release of the 4th Generation U-Turn Round we thought it would be interesting to look back at how our flagship outdoor audio product has changed over the years, from way back in the late 90's when development first started to now.
The U-Turn Round started as an idea, what if there was a way to get audio content to outdoor spaces without requiring power and in an environmentally friendly manner? The First Generation U-Turn Round was born…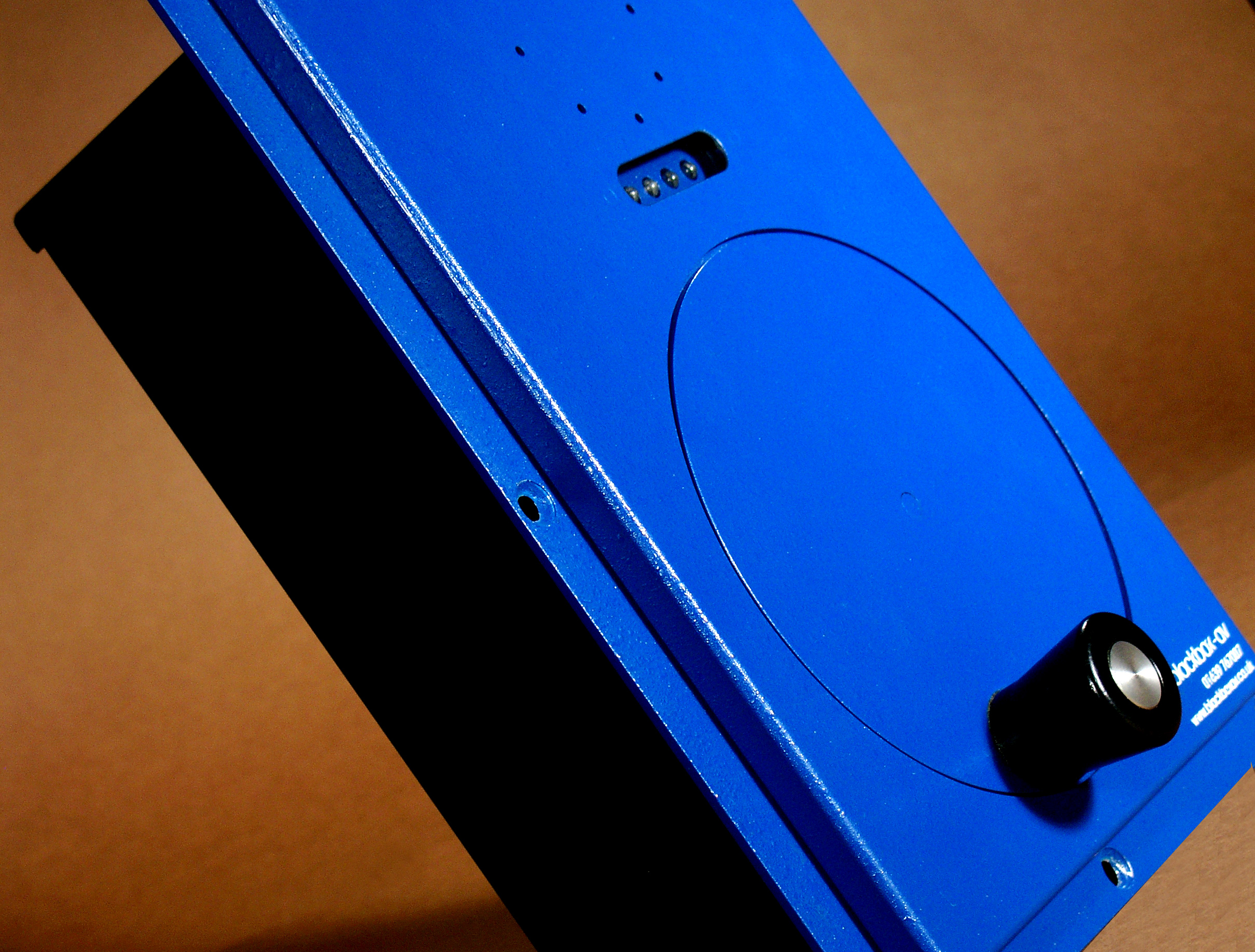 The First Generation U-Turn Round looks very different to the unit we sell today but what would you expect from something that started development in the late 90's! However the basic principles were the same, you wind the handle to play audio. Version One was constructed from a simple metal box and only supported 2 messages (activated depending which way you wound the handle)  it also had a nice LED display to show the power ramping up. The oversized front plate allowed easy installation into panels although programming required opening the whole unit up. This unit would go on to bring wind-up audio to many outdoor spaces in the UK and set us on the path to the U-Turn Round we know and love today. 
Popularity of the first U-Turn was proof there was a market for an environmentally friendly outdoor audio device, however there was plenty of room for improvement, enter the Second Generation U-Turn Round…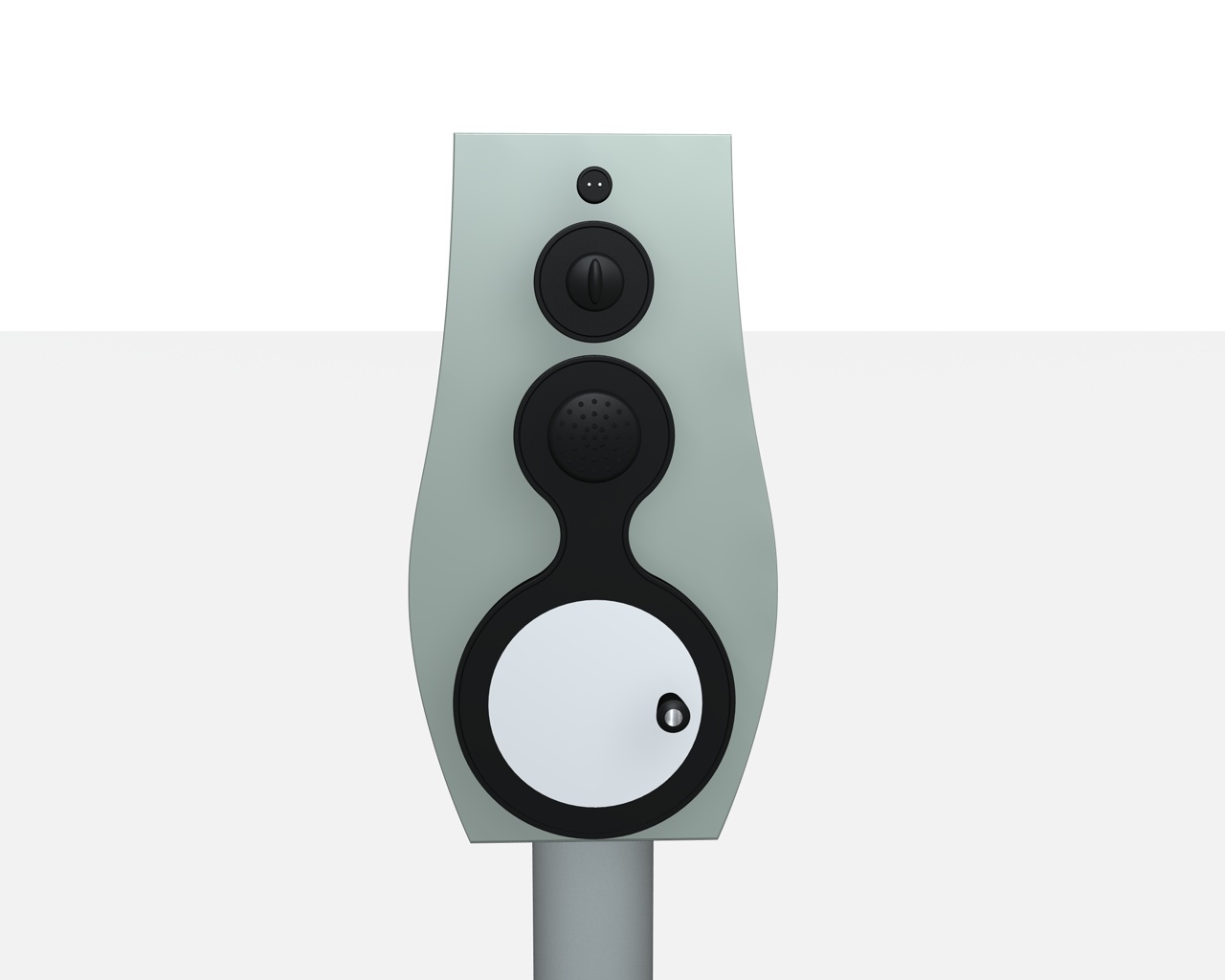 U-Turn Round Version Two looks very different to Version One, you can see the modern style U-Turn beginning to slowly evolve. It introduced a lot of new functionality such as a selector for choosing between numerous audio tracks (the two way wind of V1 was confusing to users) and the ability to easily program content via a special connector socket positioned at the top.  This version was primarily designed to be pole mounted, a free standing solution foregoing the oversized front plate. However as you can see below;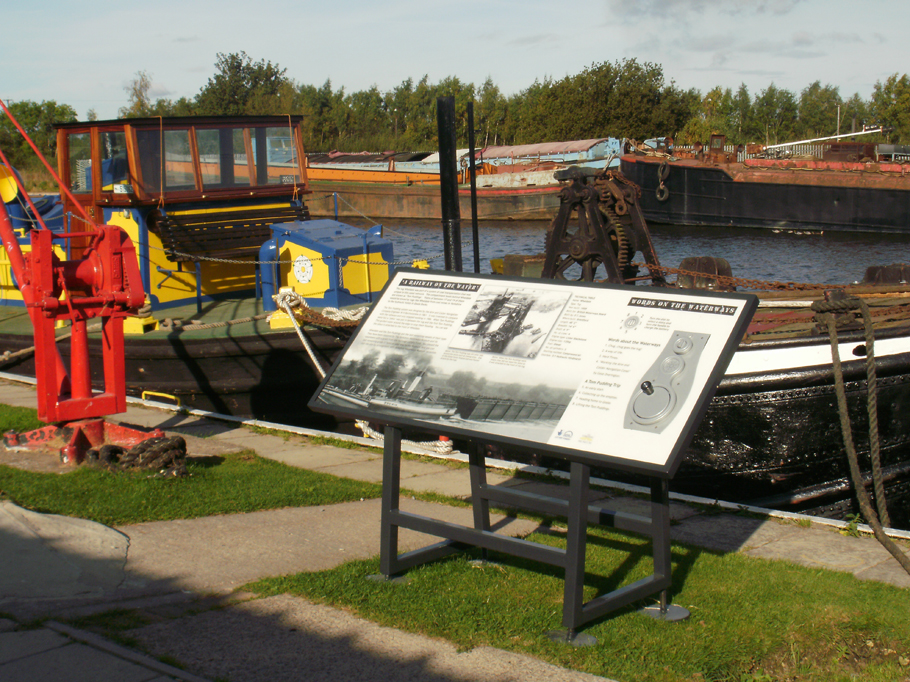 Some early U-Turn Round adopters like The Yorkshire Waterways Museum wanted a sign mounted solution. It was doable but not the simplest form of installation, something that we would work on later…
While the Second Generation U-Turn introduced a lot of functionality and a more friendly design, the Third Generation took these and ran with it…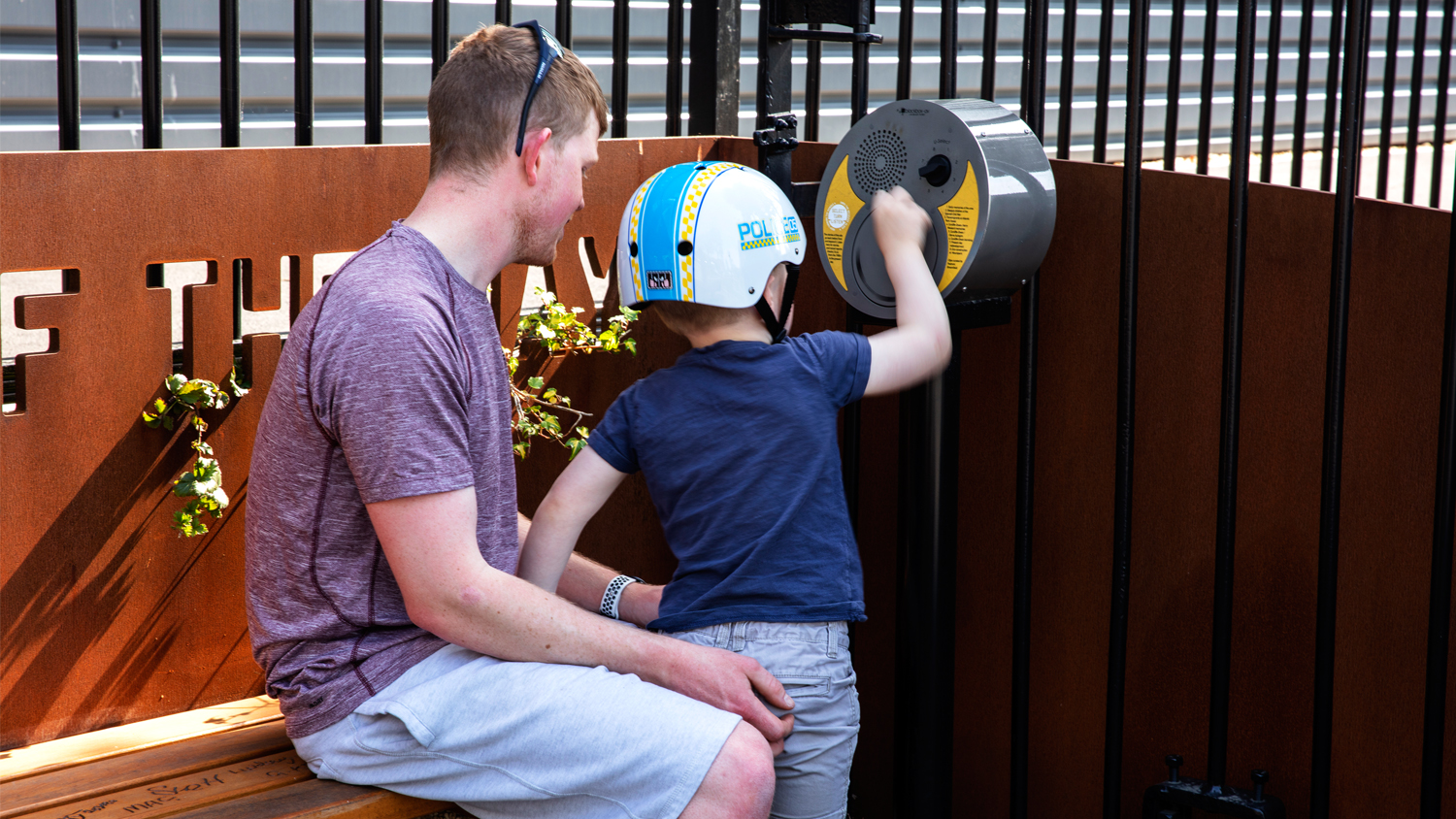 The Third Generation U-Turn Round introduced a new round body constructed from marine grade stainless steel, this is the general shape we still use today, not only does it lend itself very well to the entire concept of a 'U-Turn Round' where you turn a handle around for power, but it's a very robust design which also allows branding or track lists thanks to the 'bat wing' shapes positioned on the front.
This generation introduced a whole bunch of upgrades including easier programming, the ability to get playback statistics from the unit and other administrator settings such as volume to name just a few.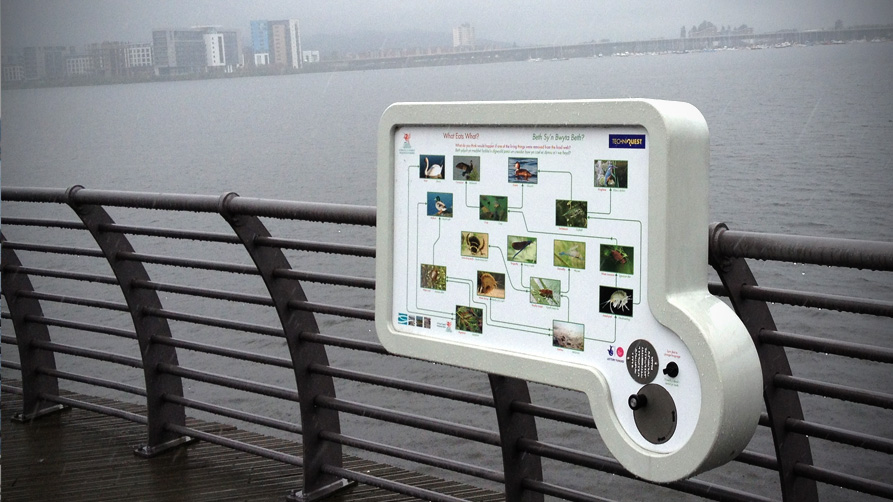 Although mainly utilised in pole mounted installations, as this project in Cardiff Bay shows there was still a call for the U-Turn within signage, in this case the entire unit was built into a bespoke graphics panel however we felt this wasn't the easiest solution, which led to the next step in the U-Turn's evolution…
An addition to the lineup
What better way to improve traditional signage than by incorporating wind-up audio?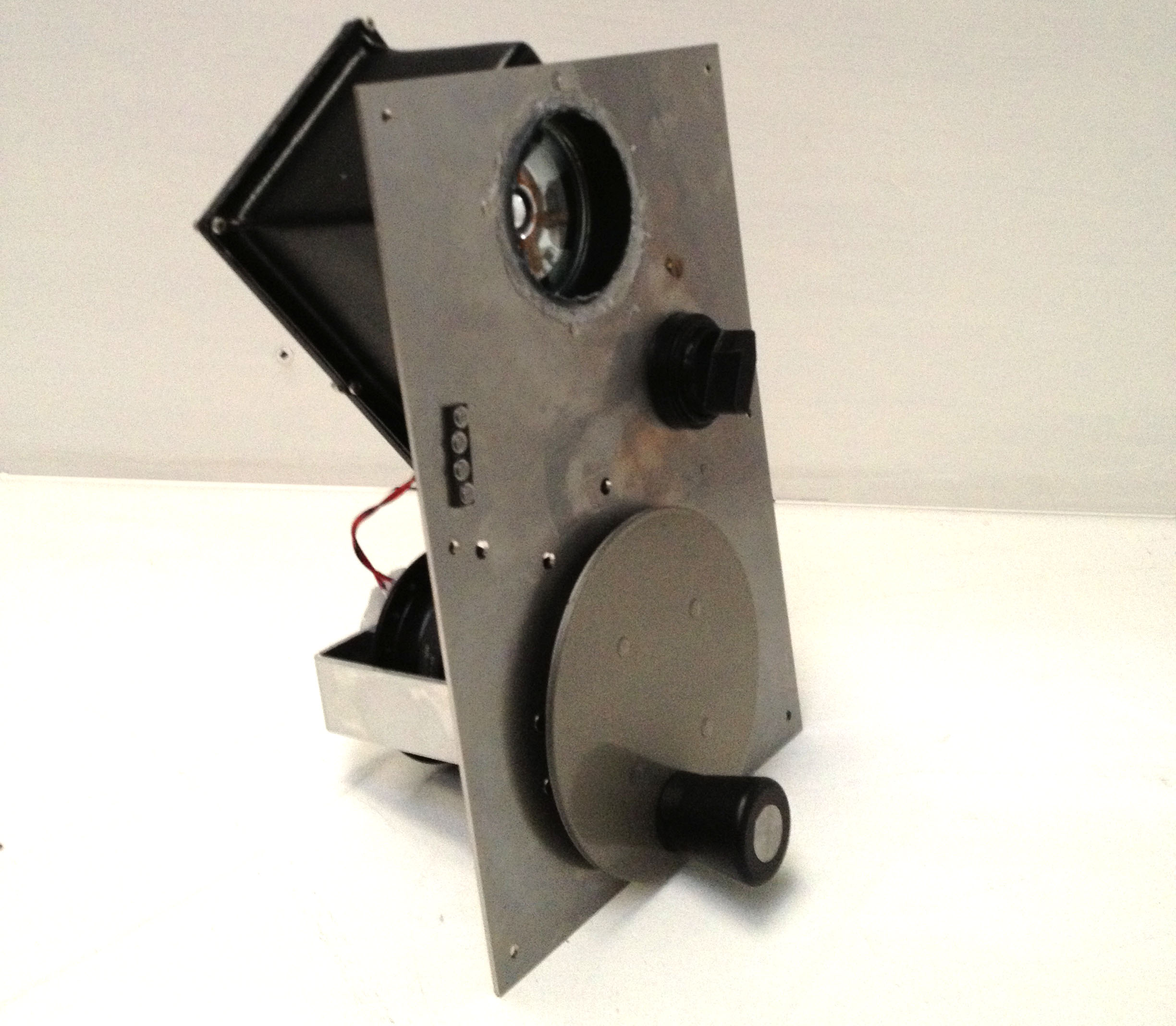 With a clear market for U-Turn Rounds but incorporated into traditional signage, we released a special 'behind panel U-turn' that could do just that, it created a very clean installation but ultimately was quite complicated for other designers to build into their signs. Here you can see it as used in a project for Llanyrafon Manor.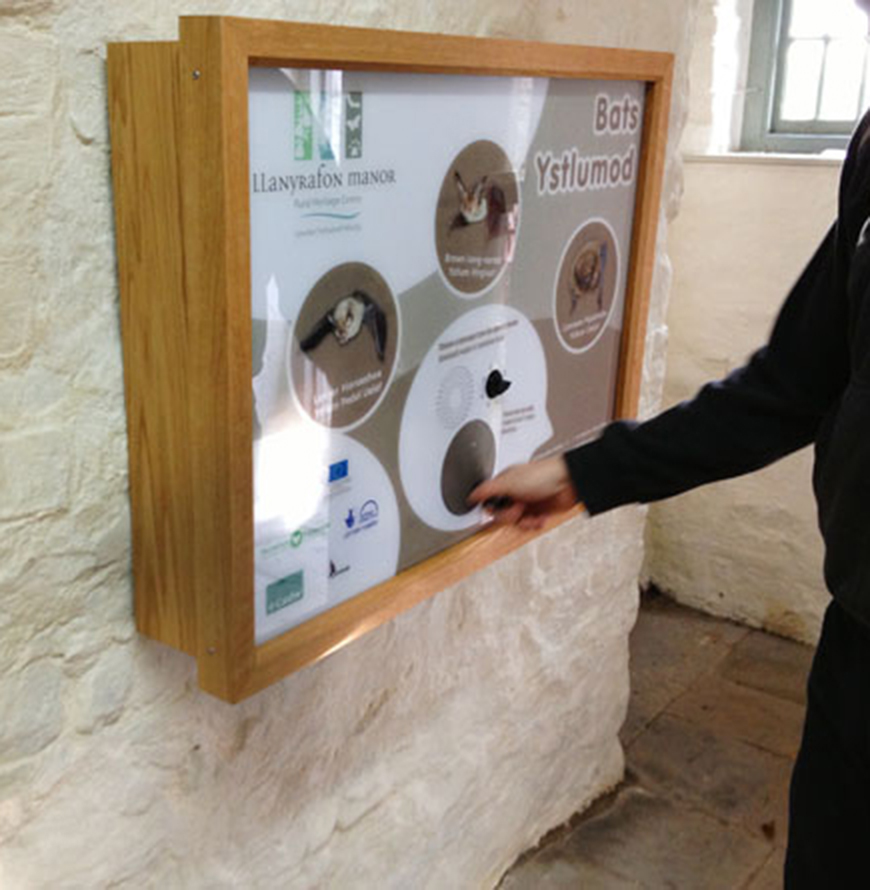 We would later stop offering this solution because of the complexity it posed when designers and other signage manufacturers wanted to build them into their own units, instead we drew inspiration from the First Generation U-Turn and developed an Oversized option. with or without a rear case depending on the required installation site (something which would cause some difficulties itself that would be solved with Generation 4!).
It turns out we perfected this as a solution with the first Generation U-Turn, an oversized front plate is ideal for fixing the unit through a panel or into something bespoke…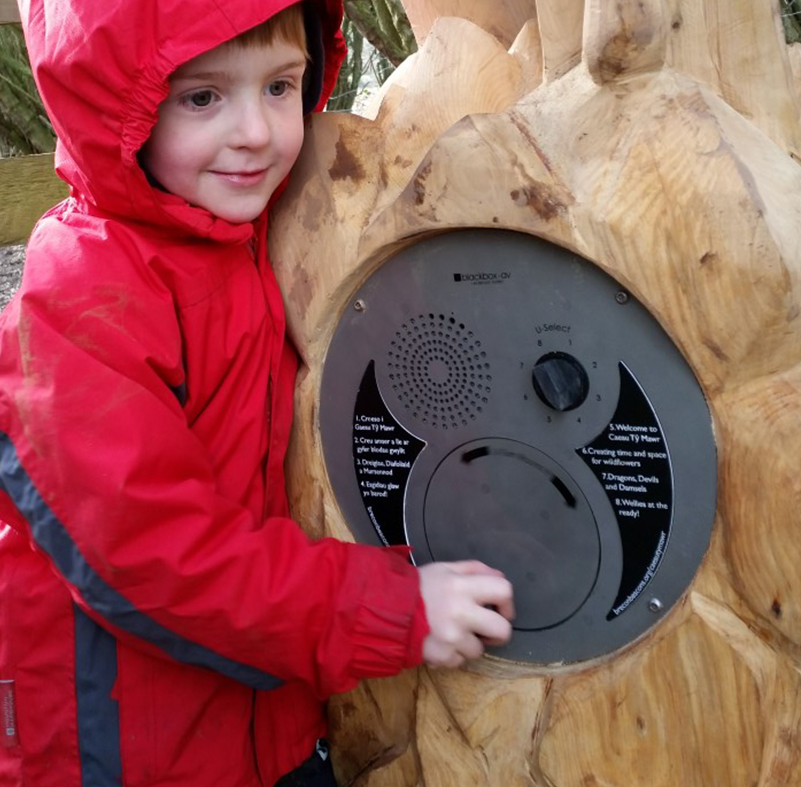 With the Behind Panel U-Turn round solving a problem but creating a few of their own, we eventually replaced that as a solution due to the intricacies of building it into third party designed signage, and took inspiration from the first ever U-Turn, an oversized front plate makes for an incredibly simple installation into signage or other structures as shown here.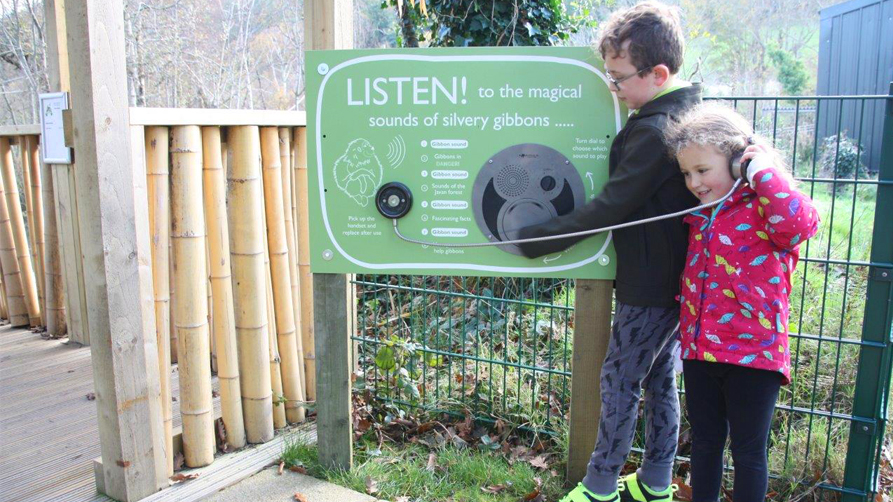 Flat panel signage could be quickly and easily upgraded to incorporate audio with the oversized U-Turn round, which has exactly the same functionality as the regular U-Turn but with an additional lip at the front that allows it to be secured in place.
The Third Generation U-Turn has proved incredibly popular, you'll find it offering visitors to outdoor spaces audio interpretation all over the world, from the London Olympic Park to Schwerin Zoo in Germany, from Alice Springs in Australia to the Minute Man National Historical Park in Massachusetts USA. However there were still some slight improvements to make, enter the Fourth Generation U-Turn Round…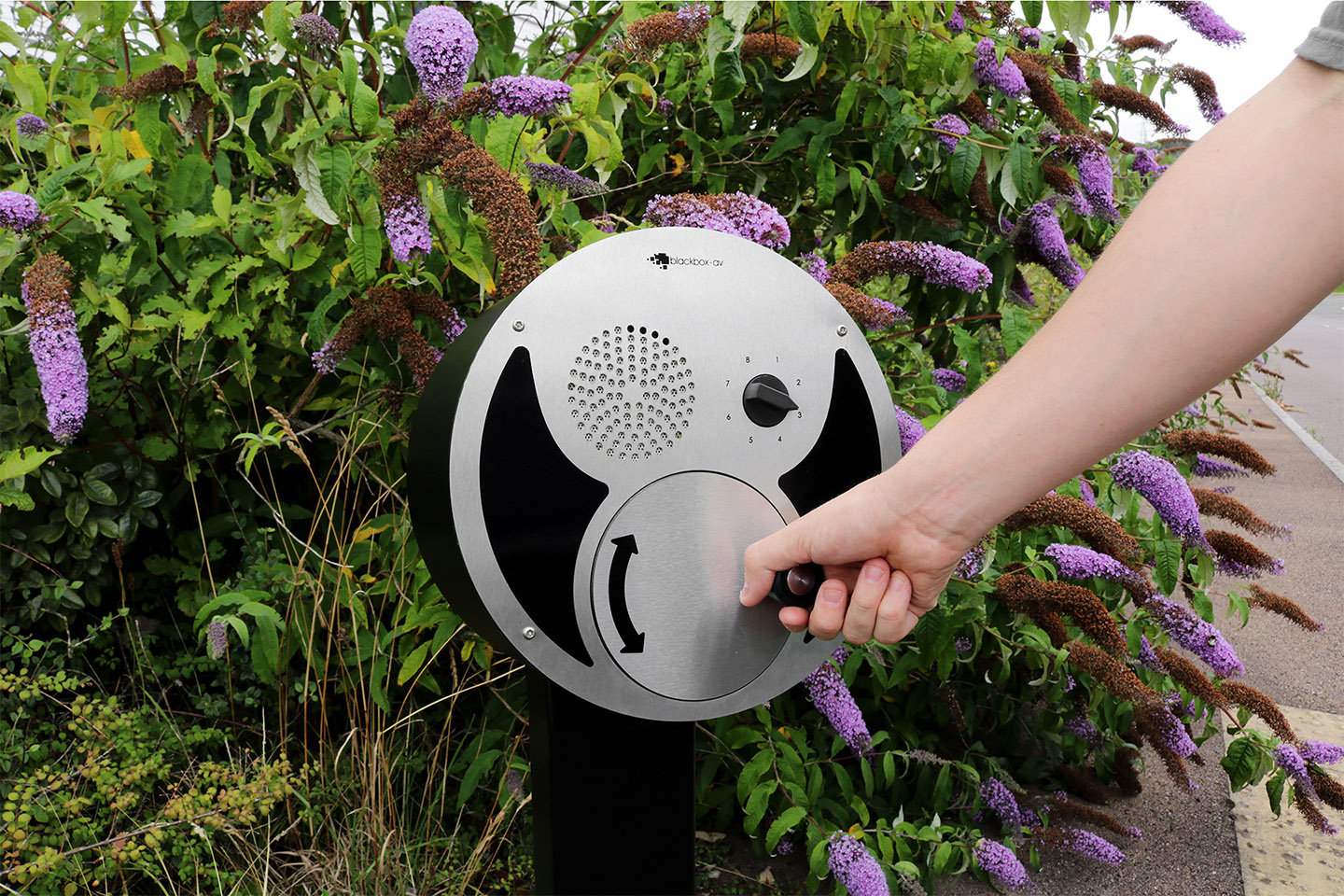 2021 saw release of the new U-Turn Round, nothing too crazy in terms of design however small improvements were made, the distinctive shape is still there however the unit is larger now that means larger batwings (allowing space for more customisation) you may notice the 'U-Turn Round' on the wind-up section has been removed to make the unit more compatible in multi-lingual situations. Although still constructed from marine grade stainless steel, the rear casing has seen the largest transformation, not only is it now powder coated black but the way the U-Turn is fixed and the mounting pole has changed. The U-Turn is larger, heavier and more robust now but more importantly the shape of the rear casing has been overhauled.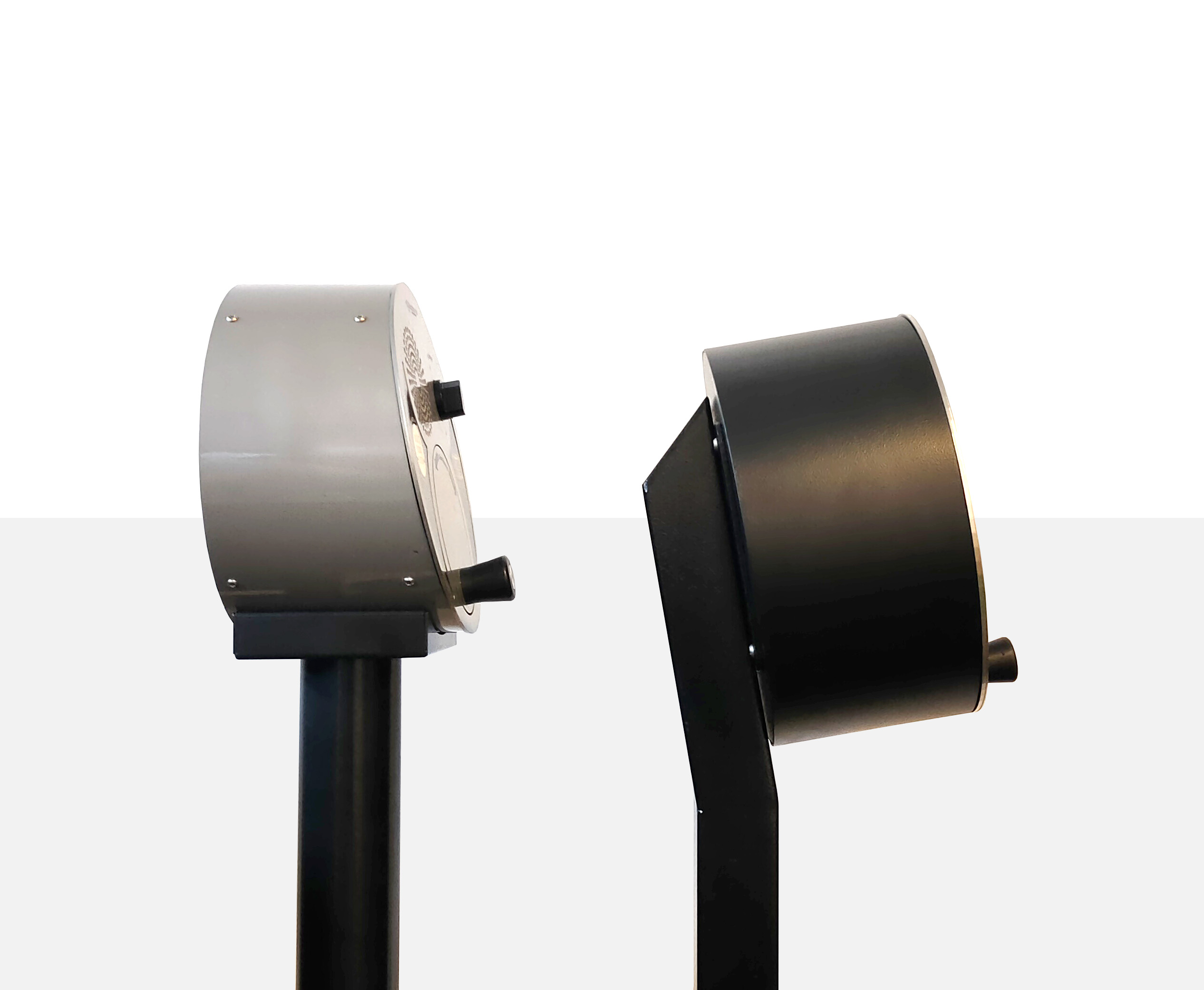 As you can see from these side views, the Fourth Generation (right) is a much larger unit with a very different rear casing, this is because the sloping shape of the Third Generation (left) U-Turn posed some difficulties when building it into a bespoke unit, it wasn't as simple as cutting a hole and slotting it in whereas now it is. The mounting pole is more robust and the method of mounting makes the U-Turn much easier to place on bespoke poles.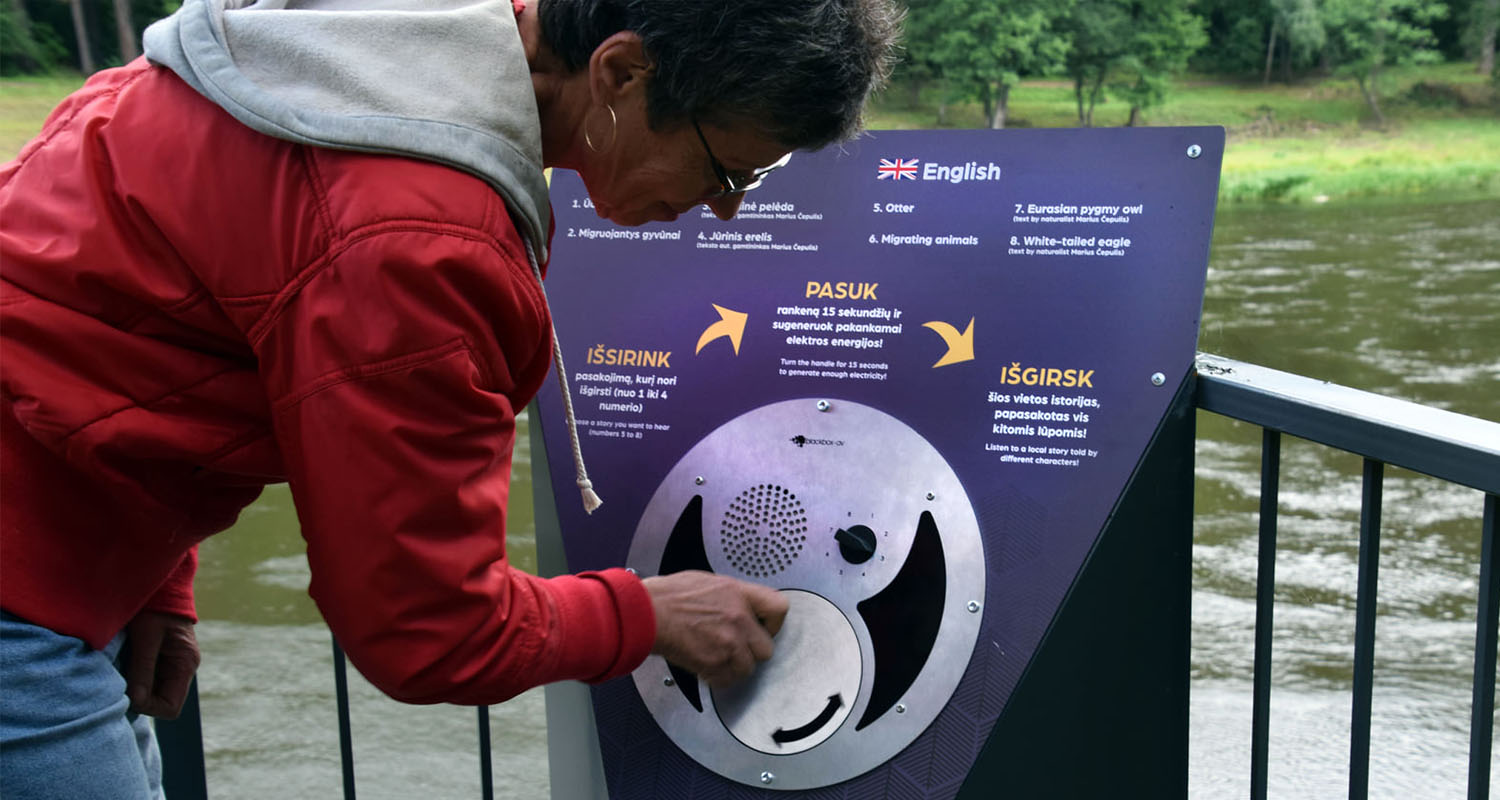 The oversized version is now much easier to fit directly into bespoke units thanks to the uniformly shaped rear. Here you can see it already in action in Neris Regional Park in Lithuania.
The previous design also required a speciality curved bracket for fitting directly on top of poles, it made installing to bespoke units slightly more complicated than it needed to be. Now with the new rear mounted solution it's much easier to fit the U-Turn to items, we offer metal and wooden mounting options as standard but also have the Wooden Bracket that can be purchased without the wooden pole and then used to install the U-Turn on a locally sourced timber pole.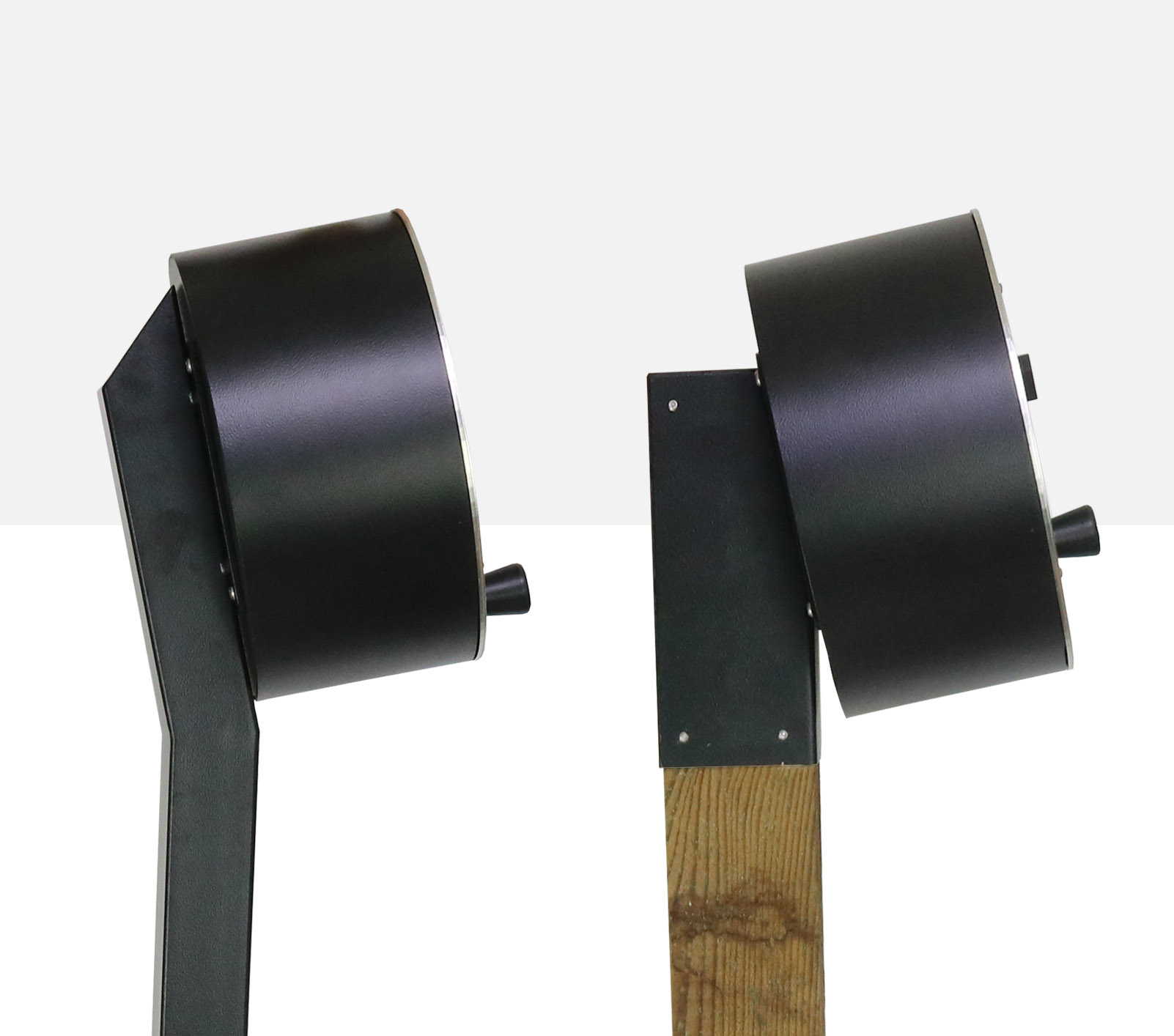 With over 20 years of development the U-Turn has gone from a simple idea in the late 90's to the reliable, robust and very popular Fourth Generation product we see today. We wonder what the future may have in store for the most popular outdoor audio unit available on the market in the years to come…
Sign up to our Newsletter below to receive news and exclusive insights.
Thank you for reading! We hope you found this post enlightening.
If you have any further questions about Audio, Outdoor setups, Eco-friendly tech and more, please get in touch using the form below.
Or leave a comment at the bottom of the page…