REDHOUSE Old Town Hall, Merthyr Tydfil
This is an iconic and historic building in the heart of our town centre. This restoration has brought the building back to life and will attract new users to Merthyr Tydfil and enable the community to make full use of it for a multitude of purposes, including education, culture, socialising and entertainment.
 – Brendan Toomey, Leader of Merthyr Tydfil County Borough Council
REDHOUSE is a new arts and creative industries centre in the heart of Merthyr Tydfil built within the Old Town Hall, a Grade II* Listed Building. A building steeped in history REDHOUSE Old Town Hall will act as a catalyst for cultural regeneration in the area.
Thanks to an £8 million redevelopment programme supported by the Welsh Government, the Arts Centre was officially opened on St David's Day with the restarting of the Town Hall's iconic clock for the first time in 30 years.
Nick Bell Design were commissioned to design a sequence of interpretation installations within the building which would provide an insight into the history of Merthyr. Several zones were created combining signage, video and audio interpretation looking at various periods of time.
We were in turn commissioned by Nick Bell Design to provide the electronics to power these installations, this included numerous solid state sound stores, push buttons and behind panel speakers. The finished result is truly unique, each 'zone' presents various media to visitors on sliding rails, allowing for a dynamic visual impact which can be aesthetically altered at random times.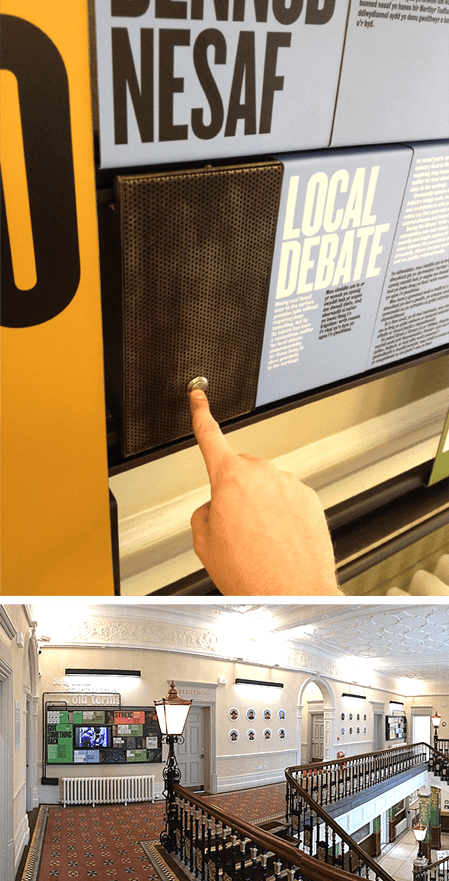 Through the use of buttons visitors can listen to various engaging audio clips or watch video – providing a layered approach to the available interpretation, alluring signage draws attention whilst the apparently nondescript appearance of audio boxes with a single push button each invites further exploration to the enquiring eye.
Related / Recent Projects

Did you know we sell our extensive range of off-the-shelf audio visual products on our online store?
visit shop