The main thing for us was finding a way to embed oral histories in the exhibition in a way that was more interactive than just pressing buttons and forced people to interact with the exhibits… We can't speak highly enough of the skills and ingenuity of blackbox to enable us to do that
– Paul Hunt, Project Manager, Mencap Cymru
The Heritage Lottery Funded project 'Hidden Now Heard' aims to "showcase the hidden heritage of people with a learning disability in Wales". Focusing on six of Wales' long-stay hospitals which closed in 2006 'Hidden Now Heard' is spearheaded by 'Mencap' and shares the memories of former staff and residents in a bid to preserve this part of our heritage and shine a light on how mental illness has been tackled in the past whilst hopefully reducing the ignorance that sadly still surrounds the subject to this day.
With a permanent exhibition located at St Fagans National History Museum a travelling exhibition was also created to bring these captured memories to various other locations and museums across Wales. It was for this travelling exhibition that our interpretive skills were put to the test, thankfully with great results. The main focus was to embed oral histories in the exhibition in such a way that would attract interaction – with this in mind we supplied a mixture of off-the-shelf and bespoke options.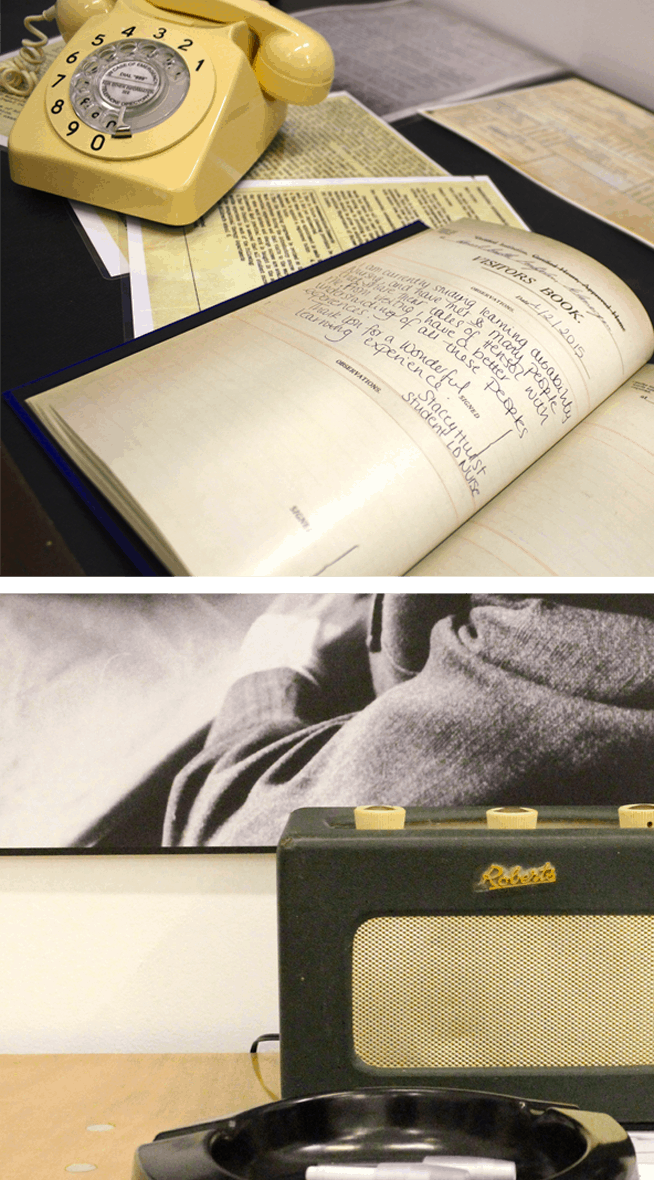 Audio is used at various points around the exhibition. A hospital bed (the same patients would have slept in) was equipped with a pressure pad which activates an audio player hidden within the pillow although visitors who don't wish to lay down to hear the audio can simply use the headphones provided instead. A period telephone was programmed with clips provided by former staff members and placed at the nurses desk, allowing visitors to pick up the phone to hear the stories.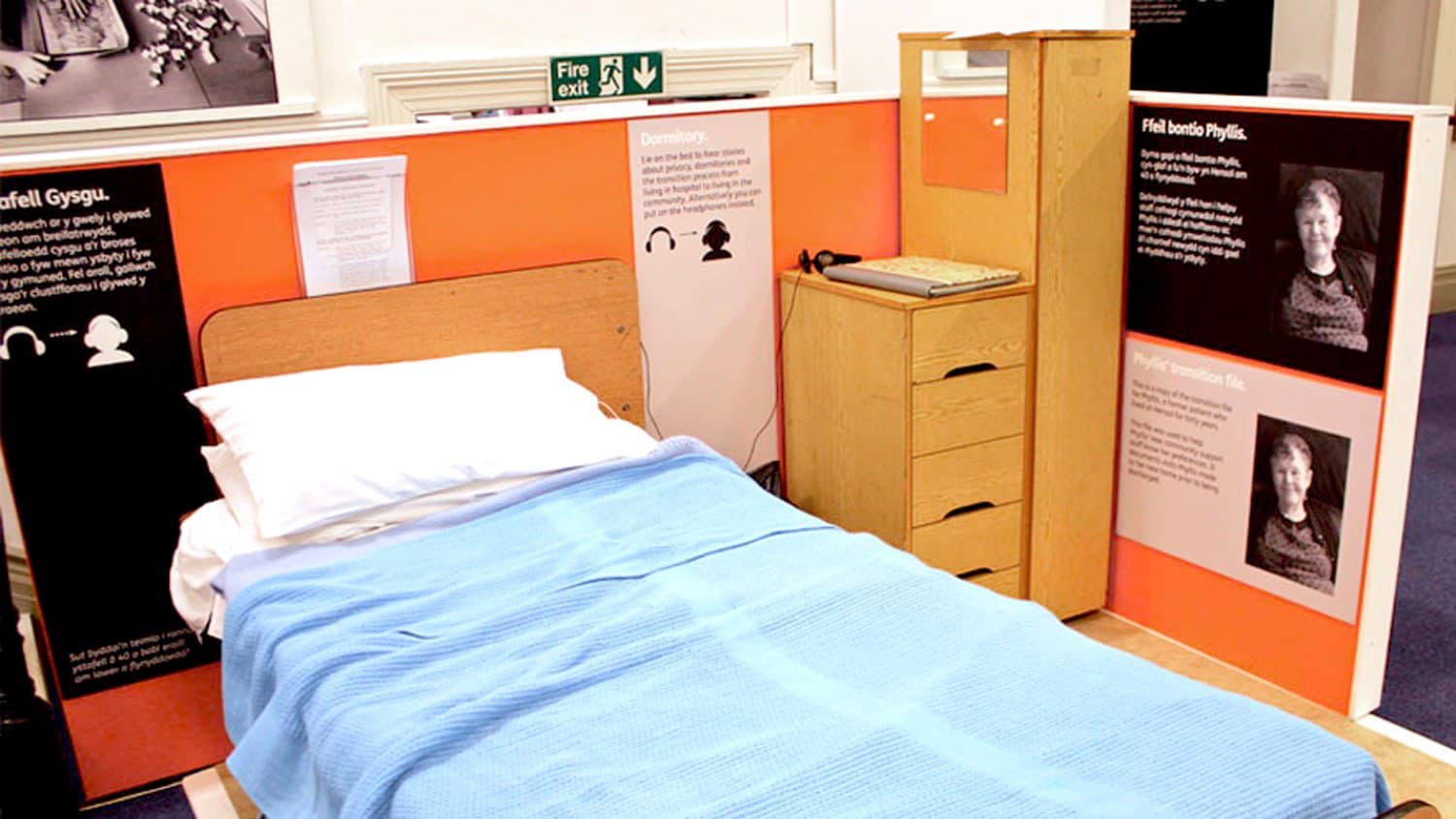 A period radio plays a selection of old tunes whilst even the toilet area was given a twist through the use of the PIR activated MIAS, when visitors enter the small area to read the informative signage the Message in a Speaker detects them and plays the sound of the toilet flushing. A jukebox purchased by the client team was retrofitted with a SoundClip and illuminated buttons so visitors could press a button to hear tales from former staff and patients set against their favourite music.
A SoundClip was used again to create a wall mounted audio point with a custom button panel, five push buttons and Armoured Cable Headphones connected – providing a selection of five oral histories from former patients that could be listened to whilst sitting in similar seats to those which would have been used by patients in the day room. Video footage is also on constant loop via a wall mounted MediaScreen Schedule.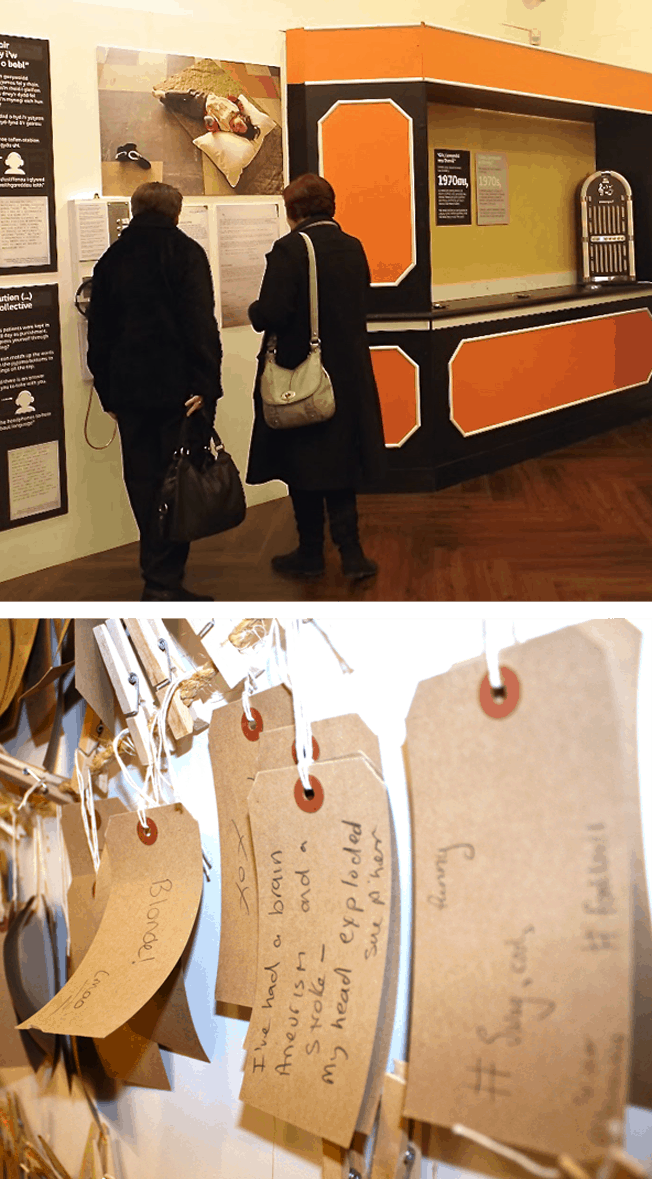 The smart use of standard products and bespoke options when coupled with the excellent research and other interpretive solutions used throughout the exhibition helped tell a valuable story. By engaging visitors in different ways they are more likely to take an active interest in the information before them, achieving Mencap's aim of preserving this important part of Welsh heritage.
Related / Recent Projects

Did you know we sell our extensive range of off-the-shelf audio visual products on our online store?
visit shop