It Was Only Rock 'n' Roll – But We Liked It, Rock Around the Hills
I think in retrospect we gave Blackbox quite a tall order – the complete design, manufacture and installation of an exhibition including 16 graphic panels, a touchscreen loaded with over 500 images and two different audio presentations. However, they remained absolutely on top of the workload and delivered everything on time and to an extremely high standard, and communication was excellent throughout. Rhys and Scott in particular deserve a mention for their patience with our demanding graphic design brief! We were absolutely thrilled when all the components of the exhibition finally arrived and were assembled quickly and efficiently on site by Blackbox's friendly and helpful installation team.
– Clare Gilliam, Project Manager
The seemingly quiet town of Great Malvern was once a hotspot for music thanks to the Malvern Winter Gardens which welcomed an incredible list of bands from the 60's right through to 1990, including The Damned, Black Sabbath, Joy Division, ACDC, The Stranglers, Hawkwind, Ozzy Osbourne, the Undertones and even Pink Floyd to name just a few.
We were contacted by the 'Rock Around The Hills' project which was created to commemorate this intriguing era in local history, whilst bringing it to the attention of a new generation. This included the creation of an online archive as well as a moving exhibition that would spend time in the Malvern Library and then 'The Hive'. We submitted a proposal for the exhibition and were delighted to be selected.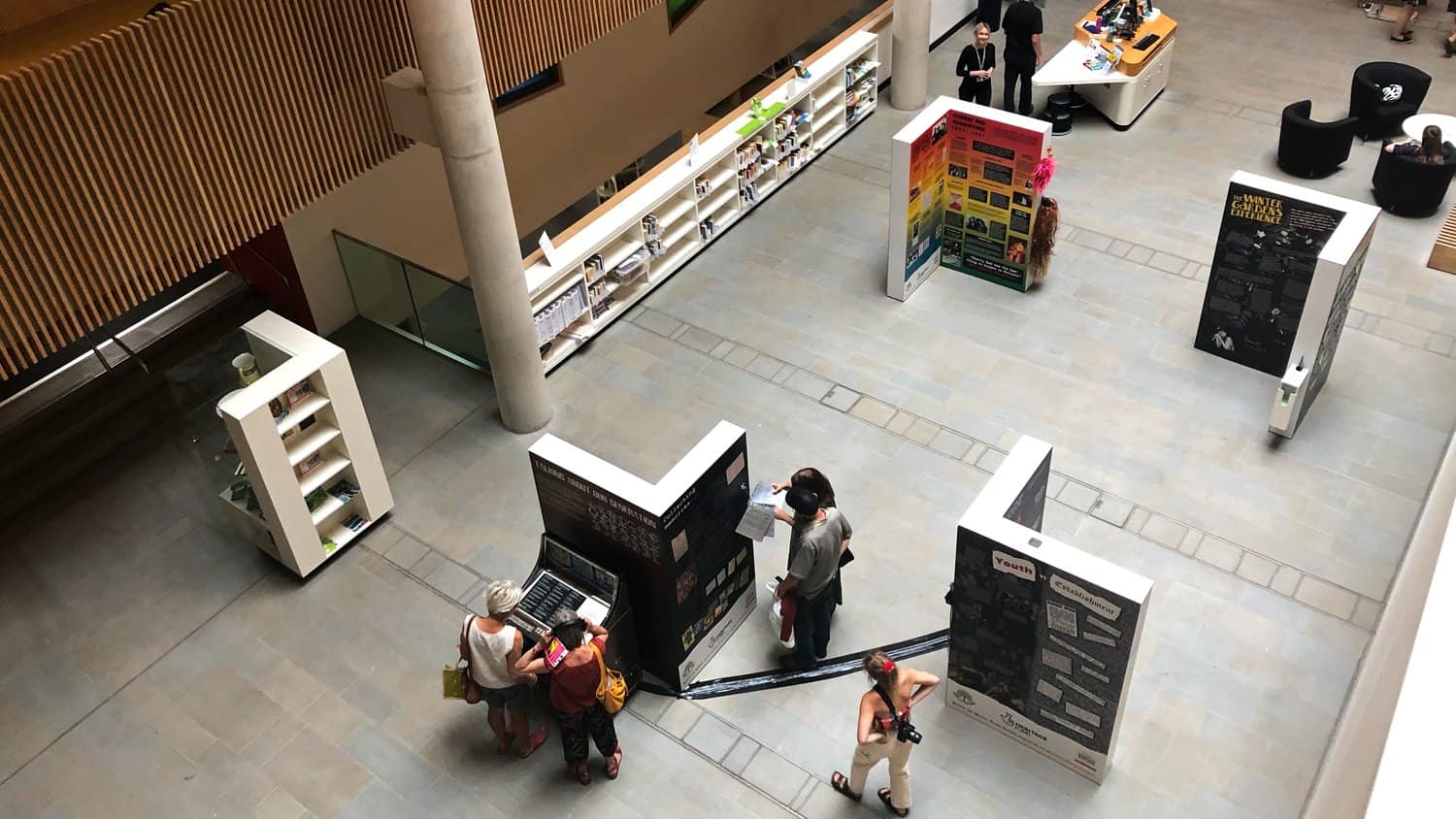 We established a concept that included a number of audio visual elements alongside more traditional interpretive techniques built into 4 freestanding structures that would allow the exhibition to be positioned depending on the space available.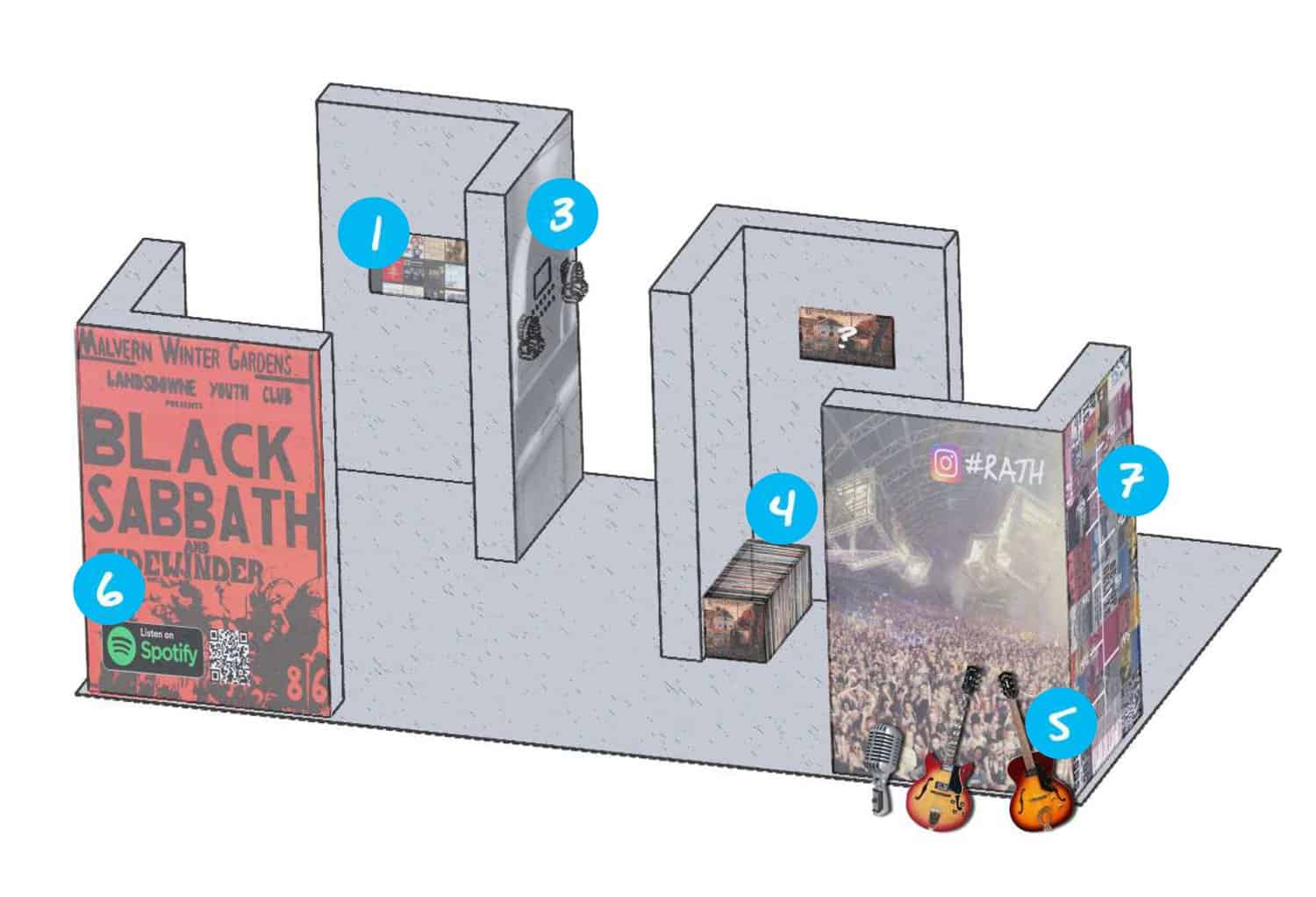 Through discussions with the client team we sculpted the original concepts into a final design and got to work!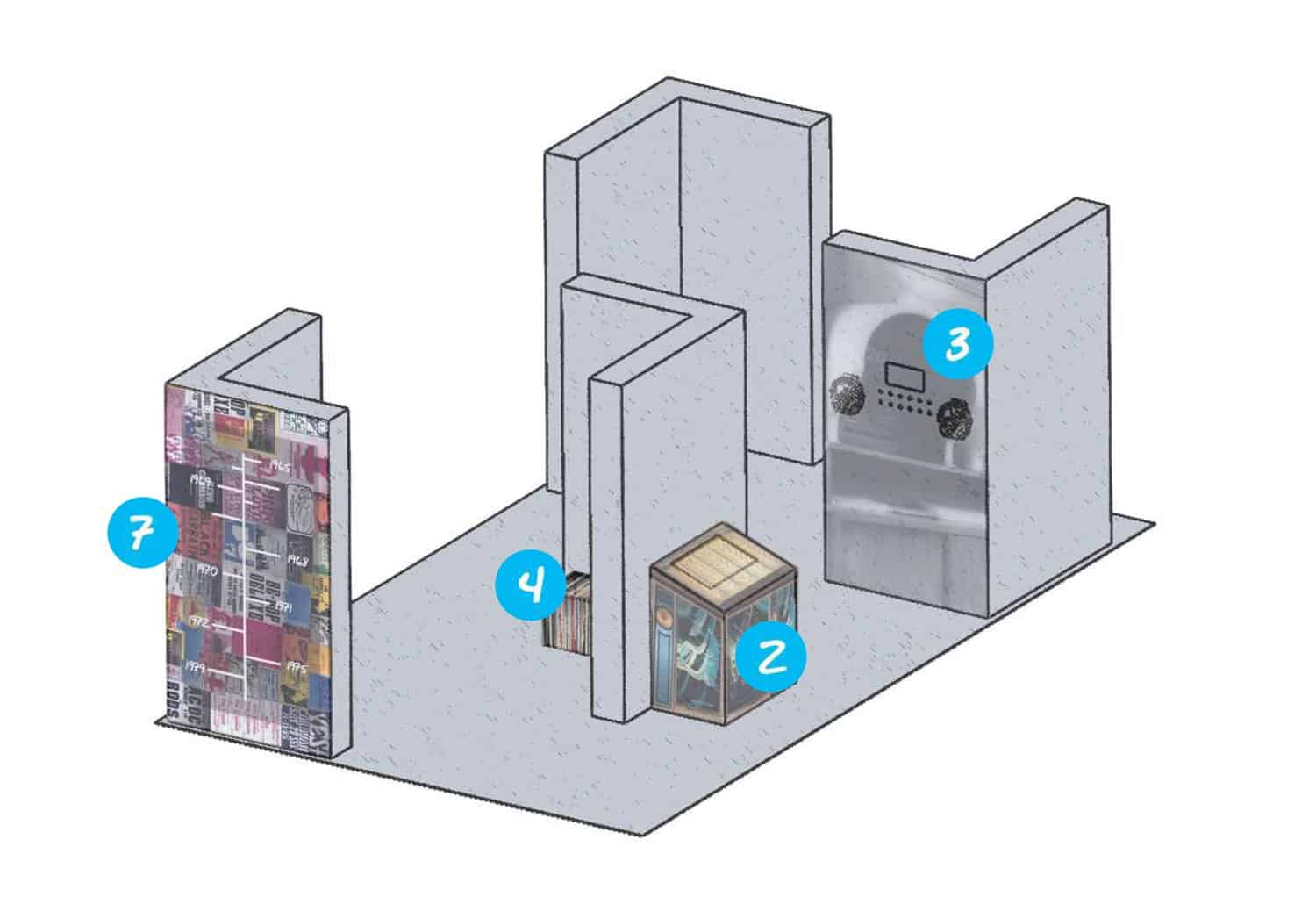 Each panel was inspired by a different era or genre of music, this resulted in a variety of interesting designs giving the exhibition an eclectic feel, just like the huge array of bands that played at the Winter Gardens.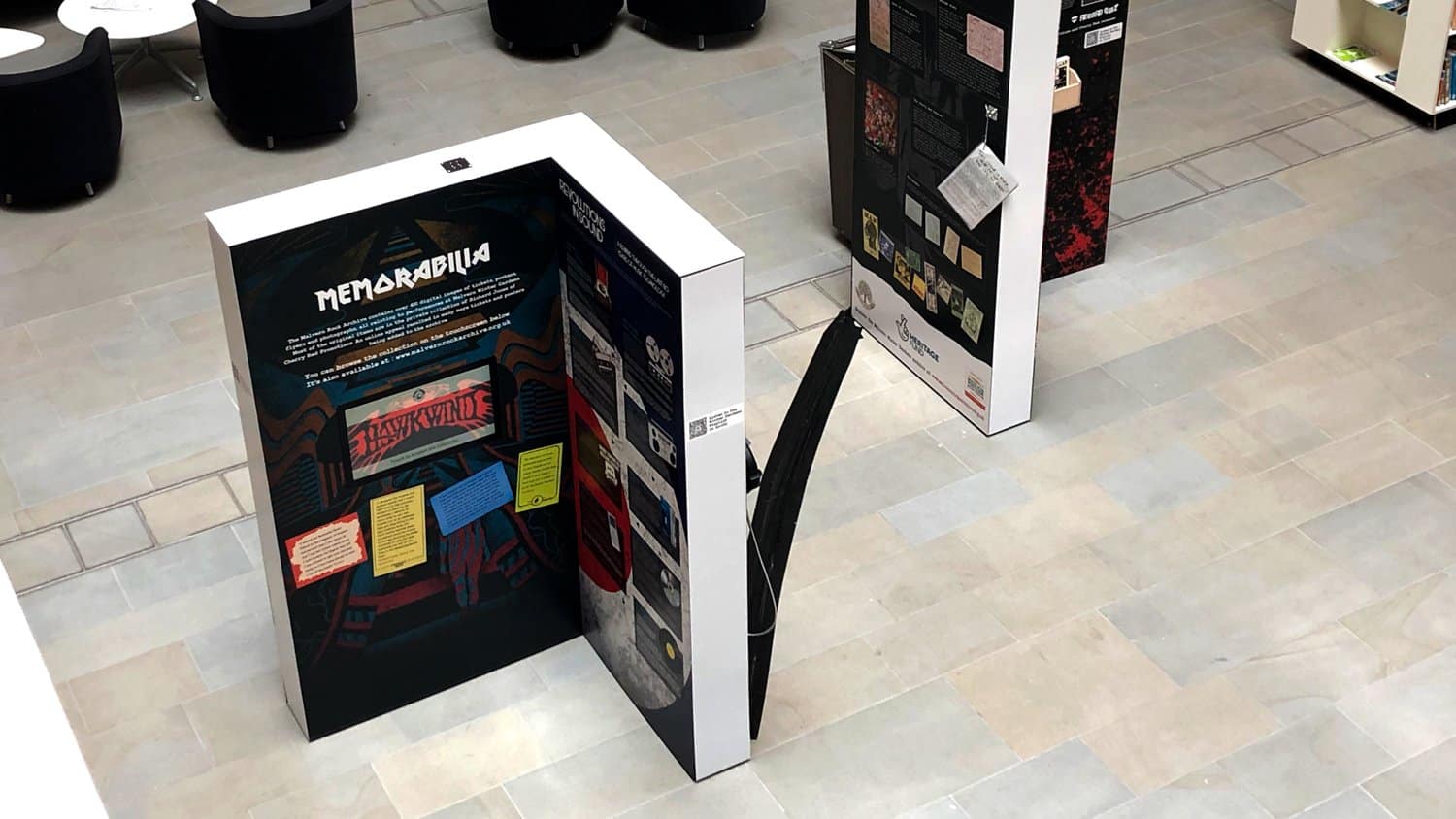 The exhibition features a number of our off-the-shelf products; an All-in-One 22″ Touchscreen with our customisable 'Collections' application Lightbox 3 shares part of the RATH archive with visitors.
Whilst a 10″ Open Frame Screen alongside our armoured cable Headphones was used to recreate an audio listening booth with some clever artwork. Visitors simply select a track from the top 12 list via a button press.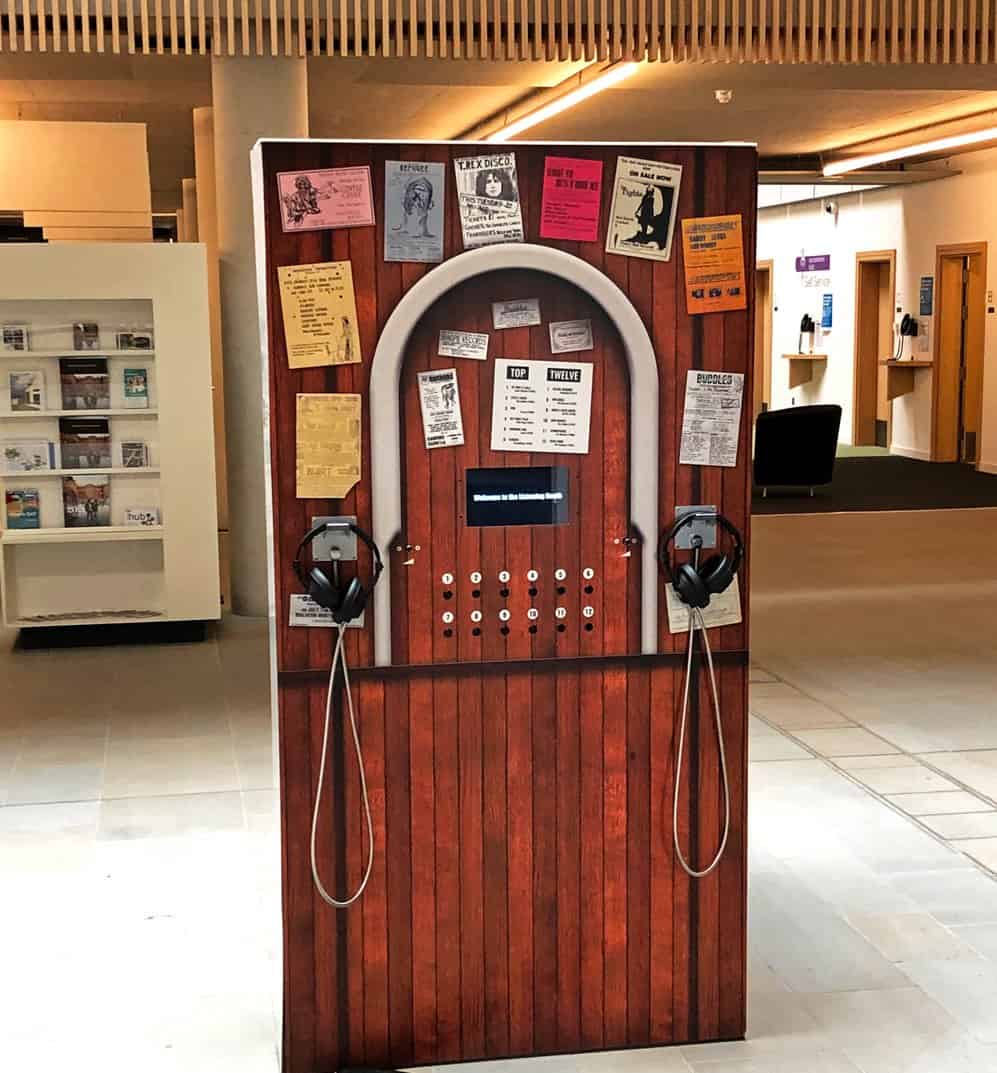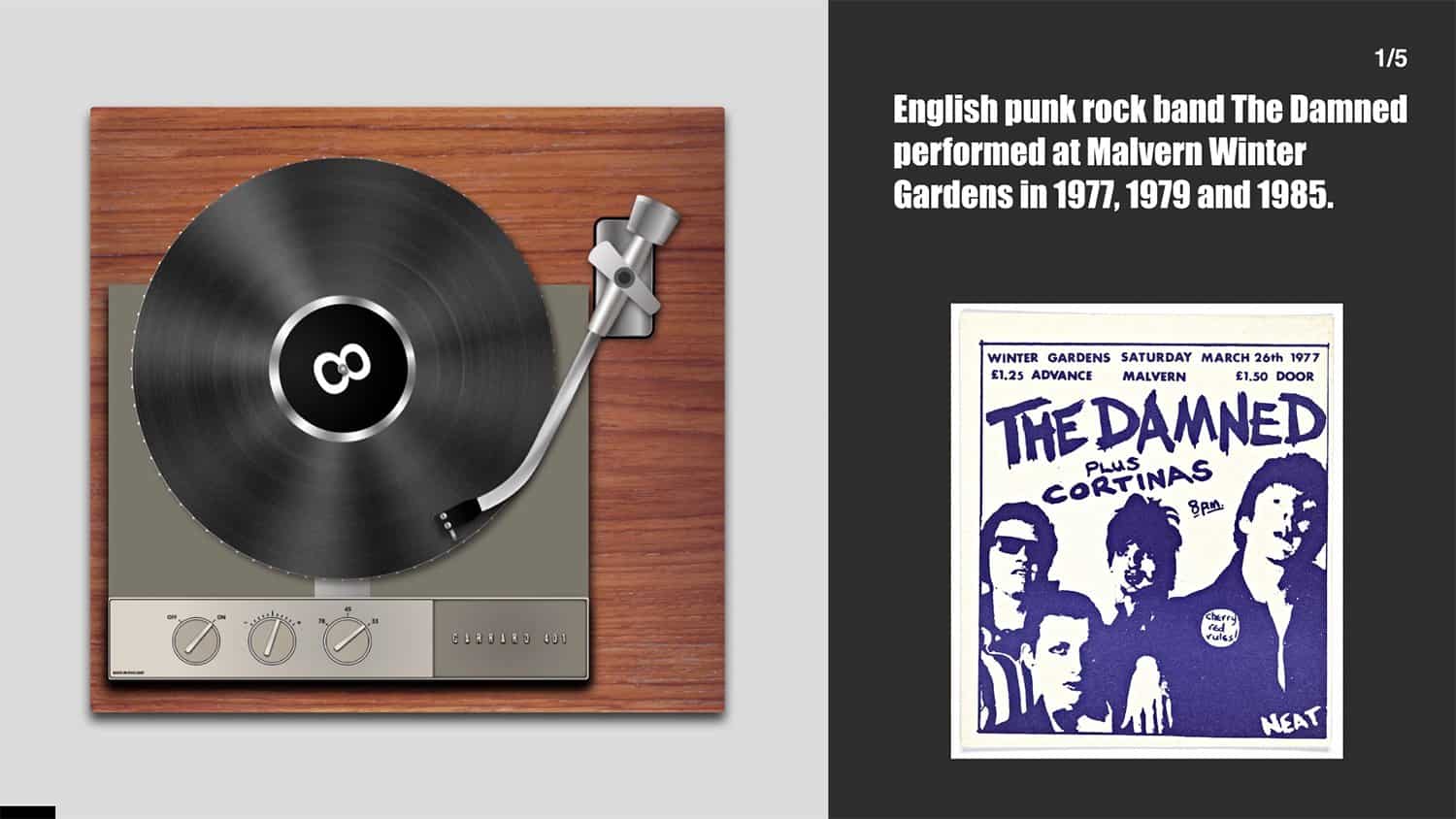 A retrofitted Jukebox shares stories from people that went to Winter Gardens gigs. Selecting which track to listen to via the keypad.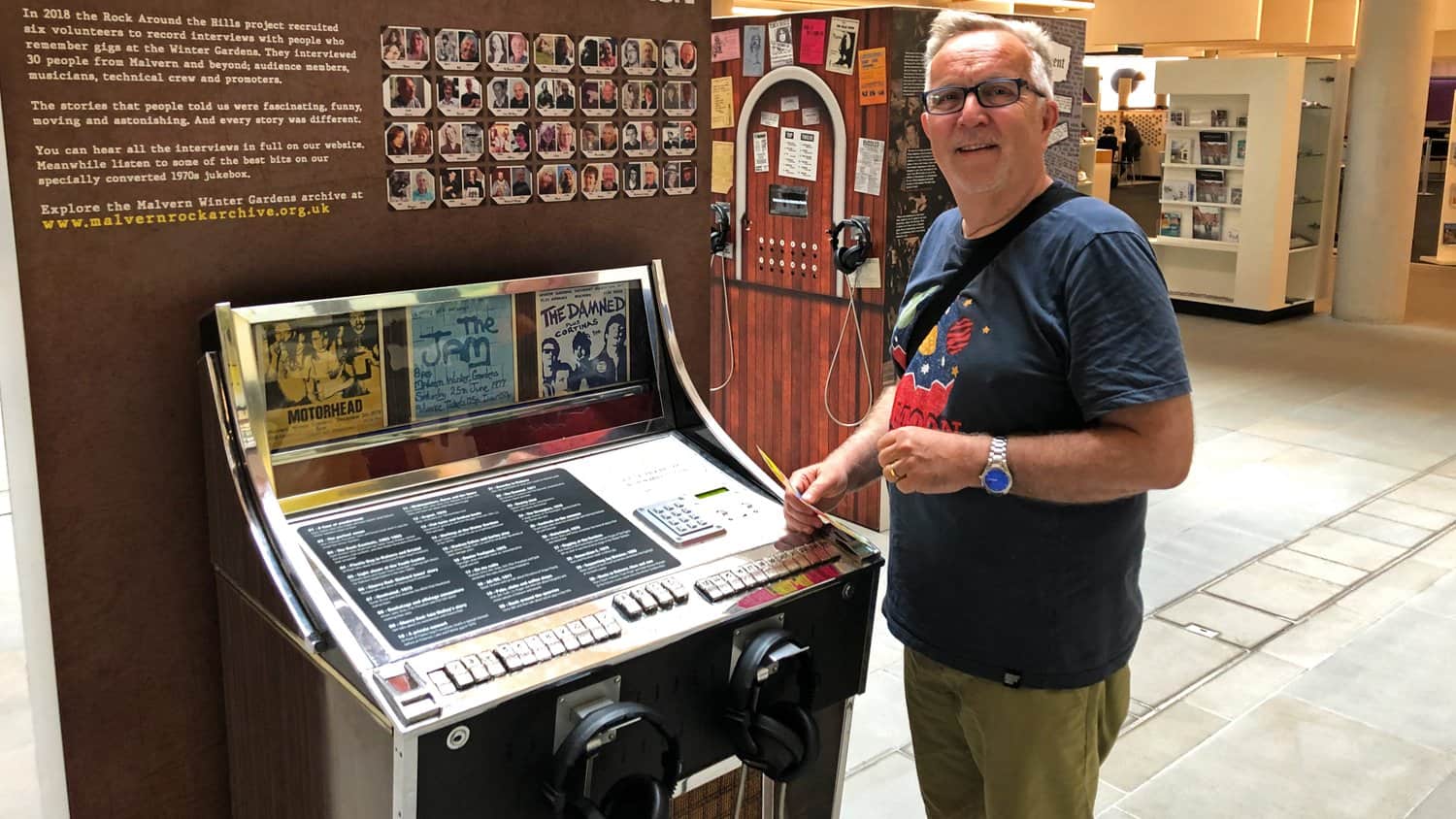 "Brilliant exhibition! Loved the audio interviews on the juke box – will definitely be going back for more."
-Rachel Lane
Another section tells the story of Cherry Red Records, a record label that begun in Malvern, whilst a low – tech quiz designed to recreate the act of thumbing through records in a store allows visitors to learn more in an engaging way.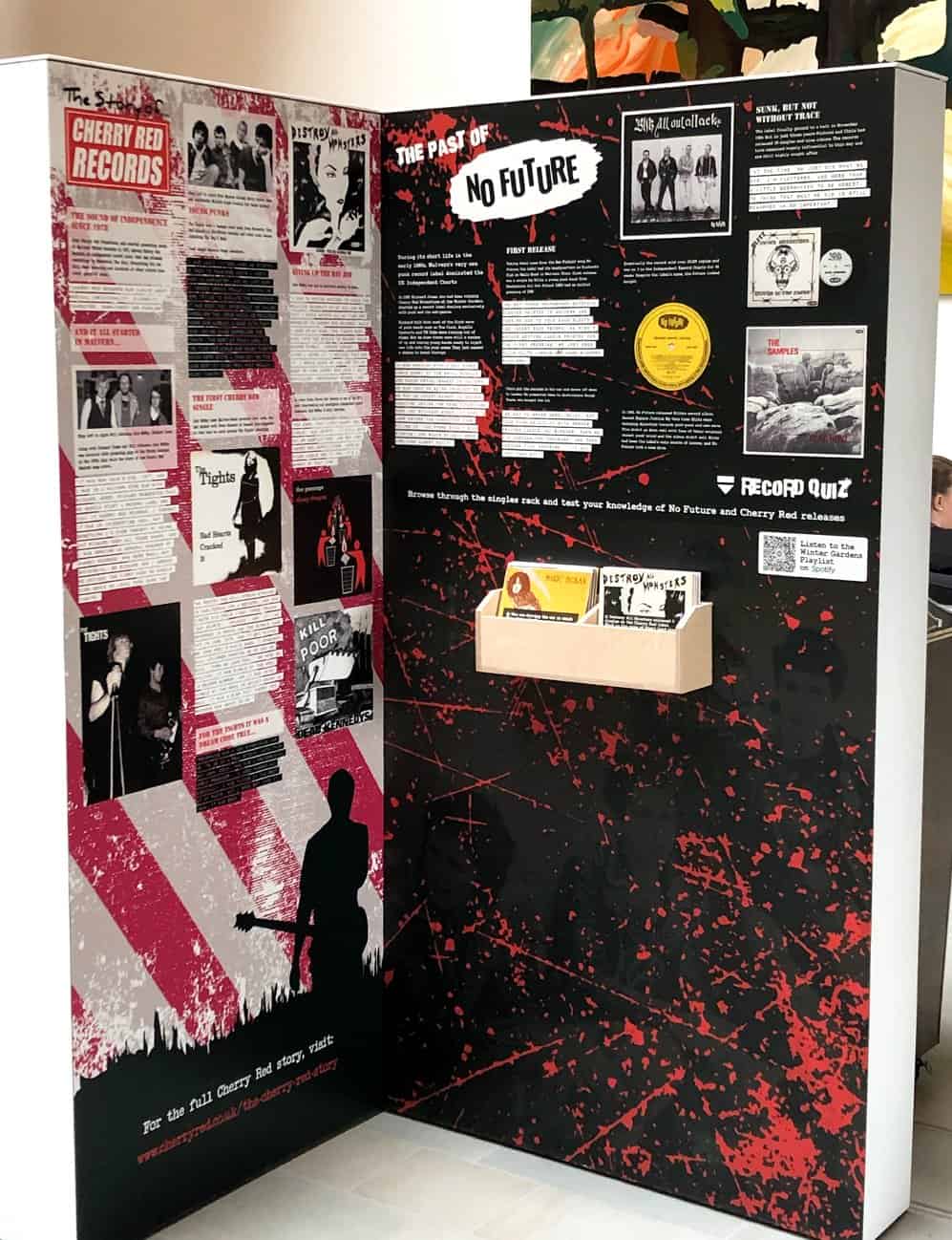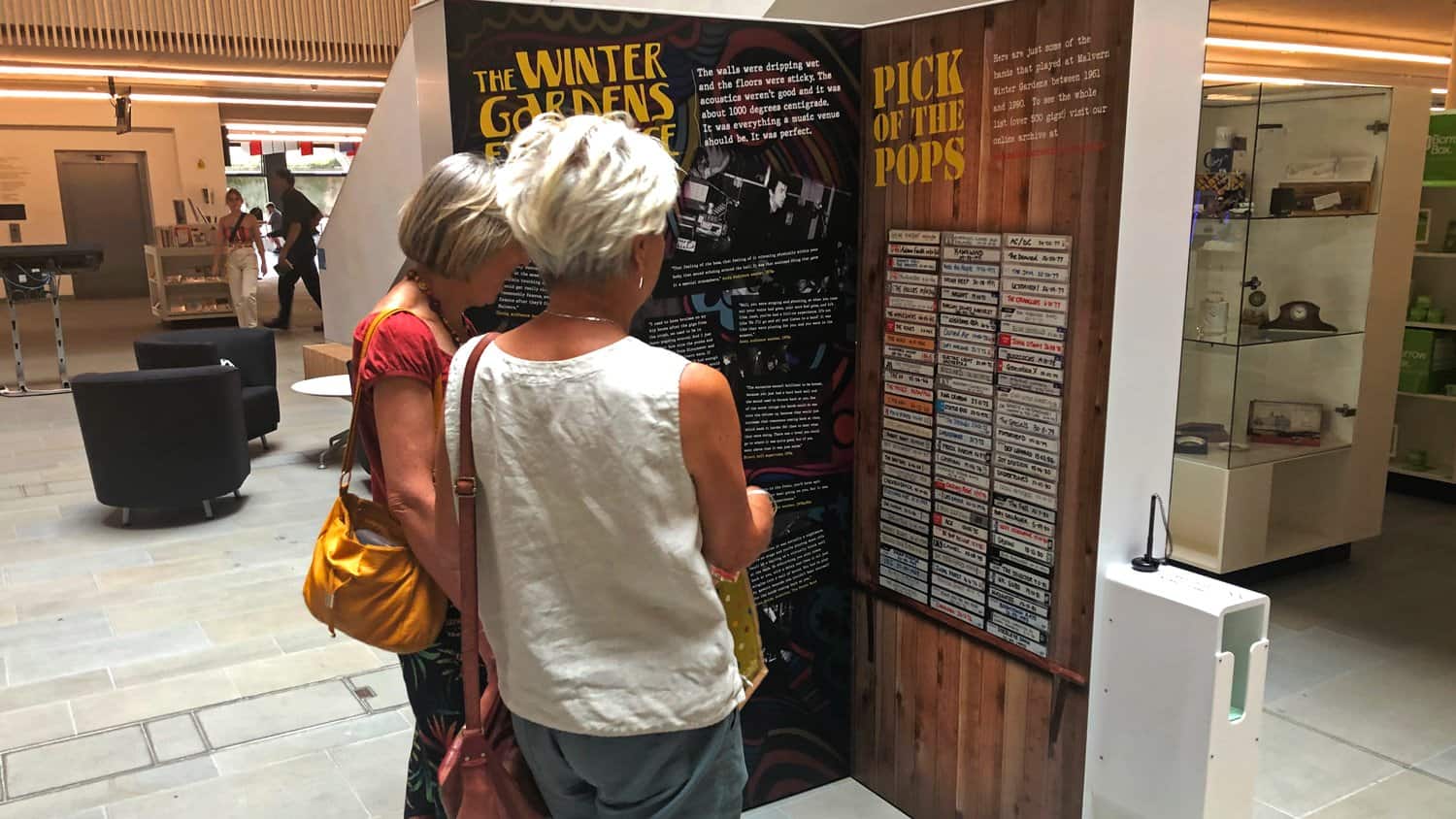 A feedback panel allows visitors to write down and attach notes, sharing memories of the era, stories, poems or just some simple feedback regarding the exhibition itself.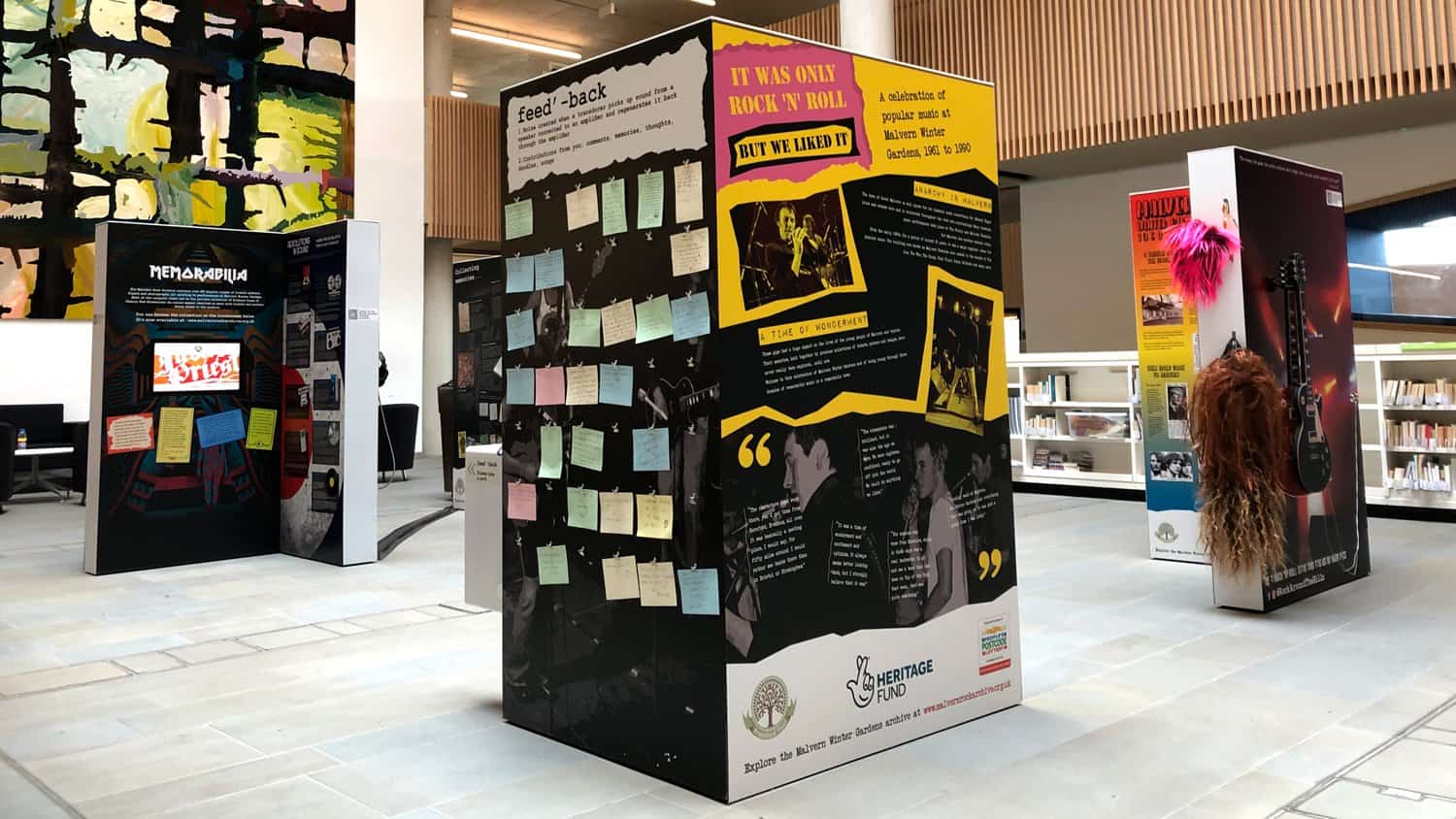 "Thanks for such a great exhibition, and also a website that I will be browsing for ages. You must be bringing back memories for thousands of us."
-Steve Riley
So far the exhibition has been a great success, attracting plenty of visitors including even a few musical celebrities, including Captain Sensible of The Damned and Paul Quinn of heavy metal band Saxon, both of whom played at the Winter Gardens.
All photographs taken by Phil Shepherd
Related / Recent Projects

Did you know we sell our extensive range of off-the-shelf audio visual products on our online store?
visit shop