How Do I Create A Museum Video Exhibit?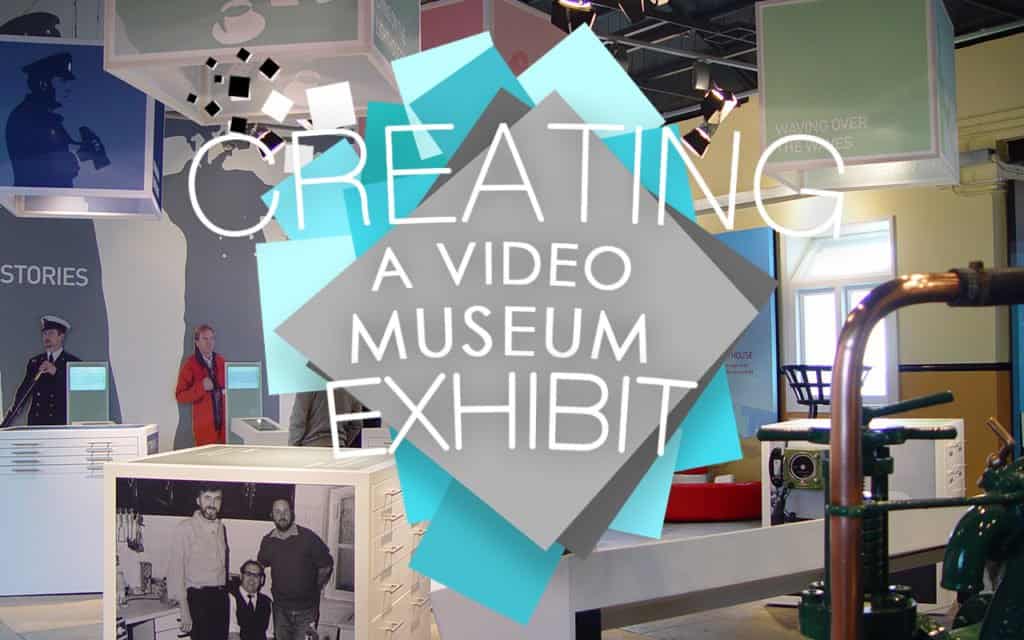 At the end of last year we published a post titled How Do I Create An Audio Exhibit? where we attempted to dispel some of the apparent magic that surrounds audio exhibits in museums. For most people, very little thought goes into what happens behind the scenes once you push a button or a sensor detects you and you're rewarded with audio. That is until you need to create an audio exhibit yourself, and then everything can seem rather confusing!
Well it's now time for the much anticipated (probably not) follow up…How Do I Create A Museum Video Exhibit?
If you're anything like us then you love exploring a good museum and soaking up all the information available through various mediums, with video probably being the easiest to digest and one of the best at keeping your attention. However, just like us before we became leading in this industry, you never really thought about the technology behind it. This is where we (and this blog) come in – here to dispel the myths surrounding a simple AV setup.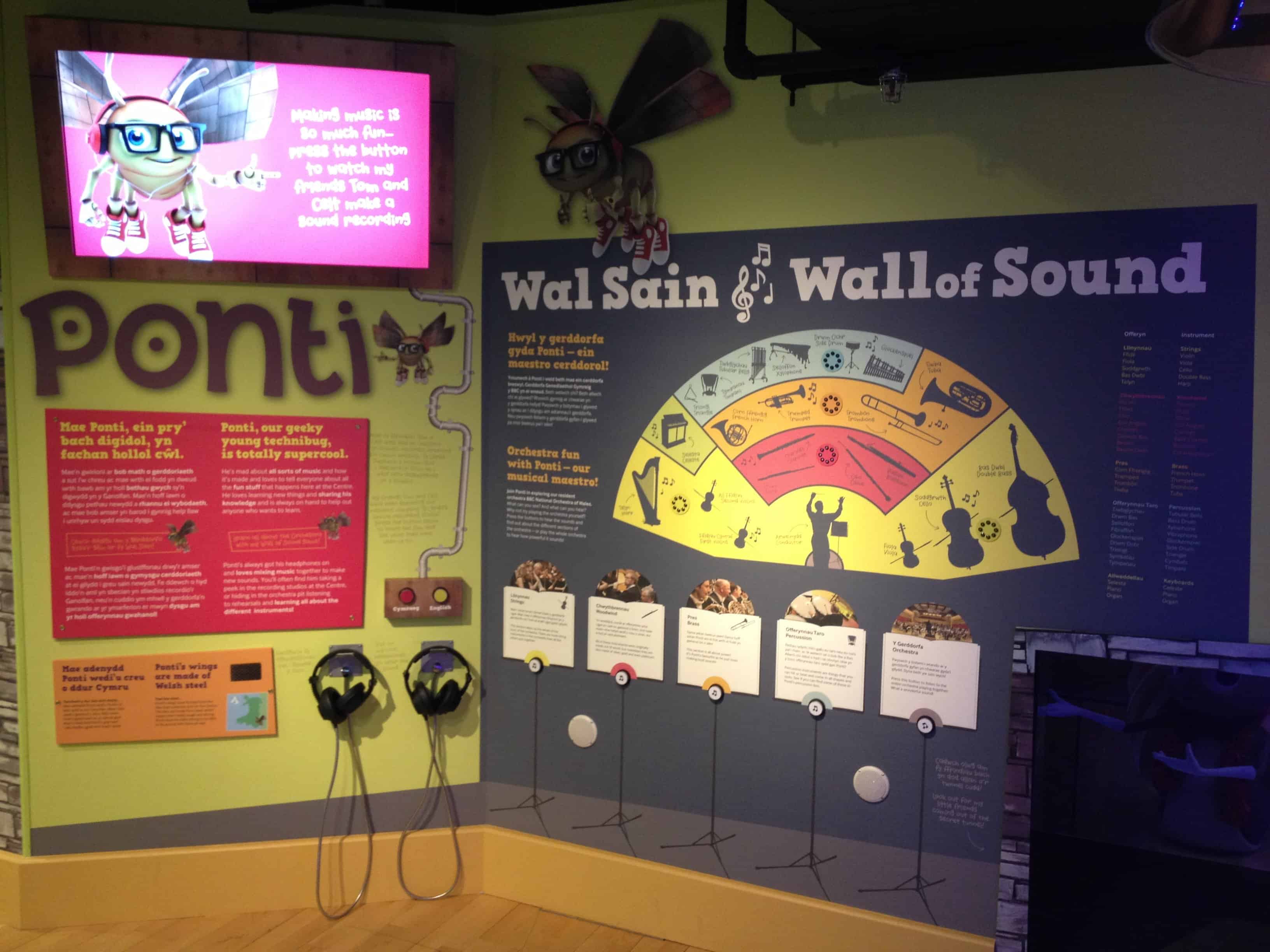 Pretty much all video exhibits are created using the same 4 hardware components; Input, Player, Output and Casting/Signage. This is assuming you already have the content created (We've already written a blog post about how to improve on your traditional signage, which you can read here), but we can assist you if you need help with that section.
Above is a section of the Milipwts Exhibit at Cardiff Millenium Centre, where we were commissioned to provide and install all AV equipment. The left section is a 2 button activated video that plays audio through 2 headphones. One button starts a video in Welsh whilst the other starts the same video in English. Thanks to the well designed signage it's quite a fun little area and most people would assume the AV that's gone into making it is quite technical… they'd be wrong!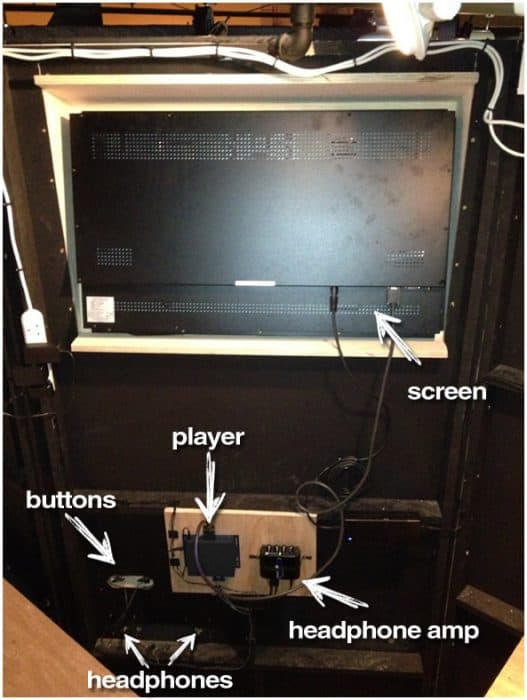 Here you can see a rear view of the video section, the entire thing is powered by the little black box which receives the button inputs and plays the appropriate files which are output to the large commercial screen and two headphones by way of the headphone amp.
The video player is the brain of the setup, this is what contains all of the video content to be played and is activated by receiving messages from various inputs, it can be set up to just play content on a loop / in a random order, or to activate via the push of a button or other inputs such as PIR (motion sensors) or pressure pads etc. We offer two Video Clip video players – the HD6 and the HD8, both of which are designed to display videos through the use of HDMI inputs. They can be programmed for push buttons (like our example here), a PIR activation or simple looping playback.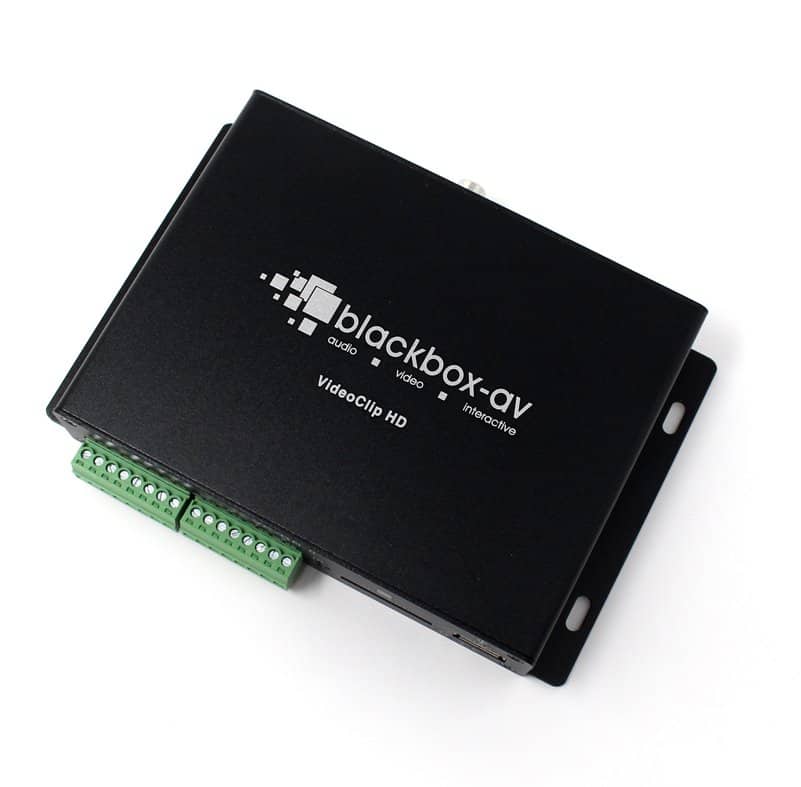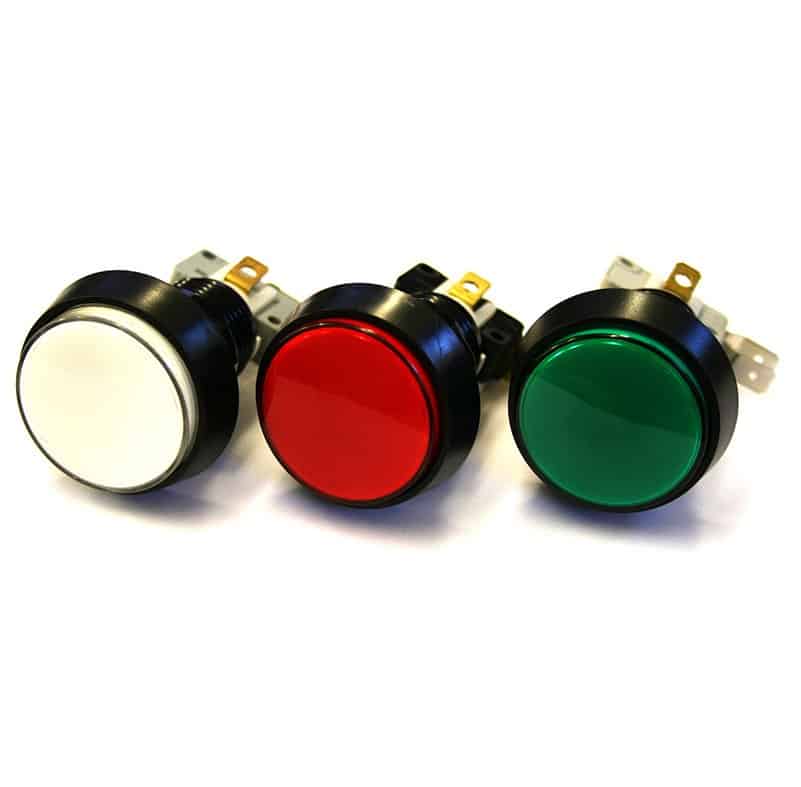 If the player is the brain then the input would be the…. eyes? (Seems this analogy doesn't really extend past the player). The inputs are what tell the player to… well… play. It can be almost anything from standard buttons to more inventive pressure pads, or motion sensors. In the Milipwts case it's 2 Arcade style buttons that initiate either a Welsh video file or English.
The outputs are the mouth of the system (pulling the analogy back!). This includes the monitor, T.V, Projector, or any other screen that is used to display the video, it also includes the audio output such as speakers, headphones, handsets etc. For the Milipwts this was two Armoured Cable Headphones (output through a headphone amp) and a large flat screen T.V specially designed for commercial use.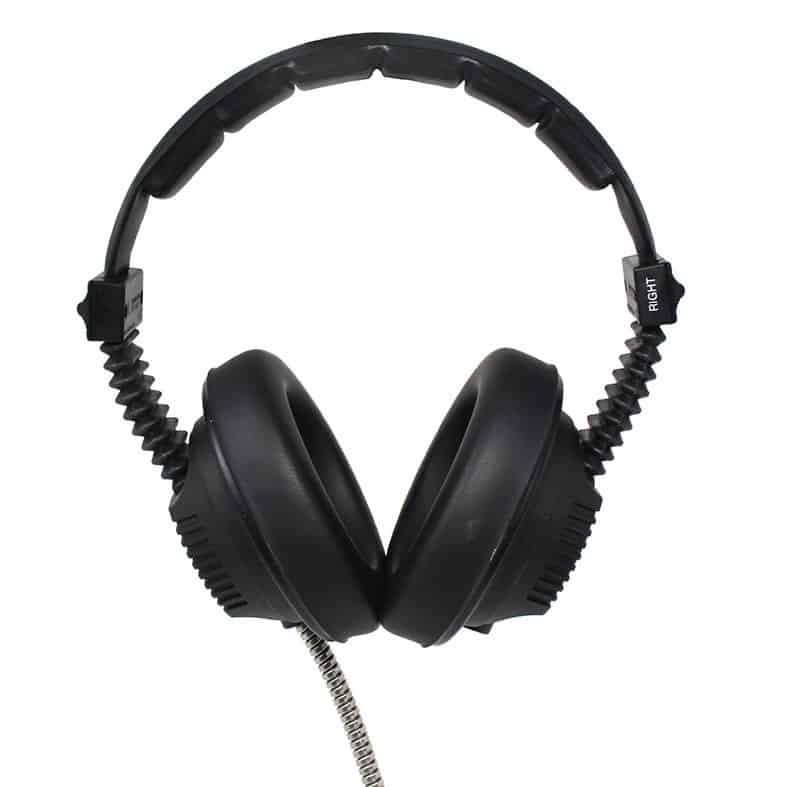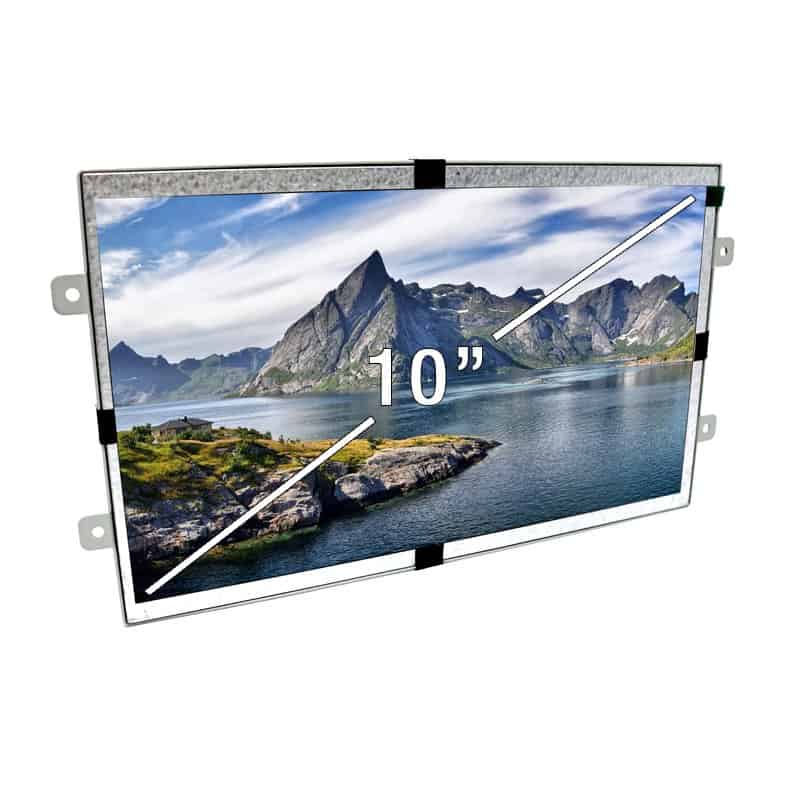 Everything you need to build such exhibits is available from our online shop(apart from imagination) but we also provide sign and exhibit design services and are happy to just give you some advice should you require it. For all-in-one solutions we have also developed a range of Open Frame Video Screens, which come with an inbuilt player that can play button activated content. The systems are easy to use and give you the perfect canvas with which to display your visual content.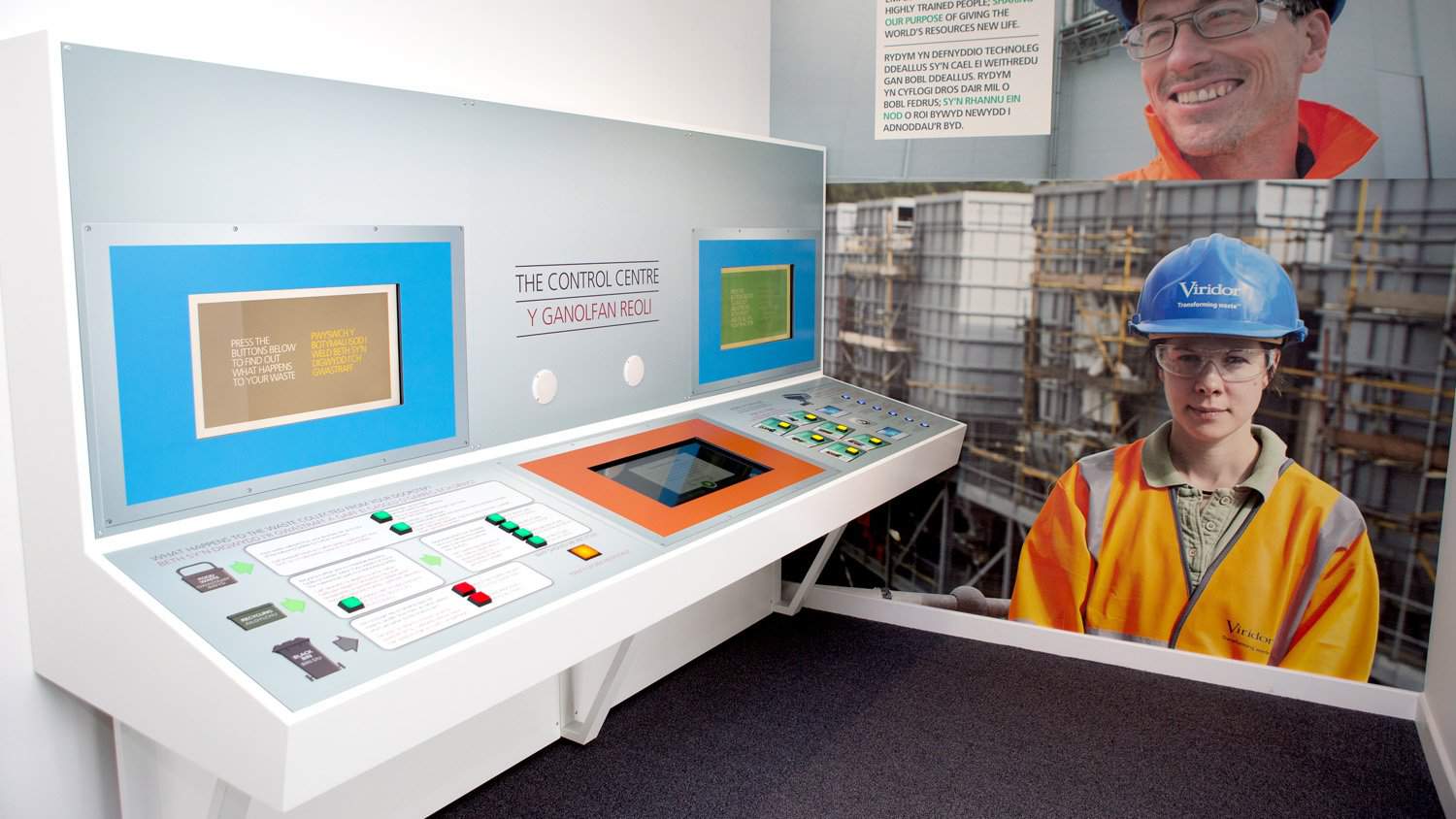 This is what you install the video player and other components behind/within. As you can see in the Milipwts installation it was behind a wall of signage that contained information and graphics which the video then supported. The space is designed for children to learn about the Cardiff Millenium Centre so animated characters, bright colours and a fun environment has been created. It's the signage and casing that determines the aesthetic of the video exhibit, for example the image below is from our installation in Viridor and uses practically the same set up, but looks very different.
Outputting to two speakers instead of a headset and using multiple buttons along with two Video Clips, this installation utilises basically the same hardware as the Milipwts but the end result is very different thanks to the setting in which it's used.
Although the components are the same, the effect can differ tremendously, the only restriction is your imagination in terms of how you utilise those components.
So, that's our guide on how to create your own museum video exhibit! Got any thoughts or tips to add? Send us a tweet on Twitter. If you've got any queries about any of our products (or want us to help you build your own museum video exhibit!) feel free to get in touch with our Sales team.